Pontoon boats are becoming more and more popular, but at times, choosing between the different lines can be confusing. Where specifically does a boat like the Cypress Cay Cabana 220 fit into the mix? Our pontoon boat expert, Jeff Hemmel, takes a close look at the Cabana 220 in this video – and then he goes farther, to really dig into the boat's core. He spent a day running the Cabana 220 and in this review, and shows you the construction and design highlights he found. Jeff will also share his test results, so you know what kind of performance you can expect from a Cypress Cay Cabana 220 rigged with a 150-hp Mercury four-stroke outboard.
If you're interested in pontoons, here are some other recent reviews and articles:
Cypress Cay Cozumel 240: Video Pontoon Boat Review
Cypress Cay Cayman LE: Video Boat Review
Top 10 Pontoon Boats of 2013
Harris FloteBote Sunliner 240: Not Your Grandfathers Pontoon Boat
Platinum 25 RFL: Pontoon Boat for Our Time
And here are some pontoon boat listings.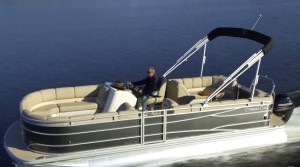 Tags: 250-hp Mercury four-stroke, boats, Cabana 220, Cypress Cay, Jeff Hemmel, Outboard, pontoons, Video