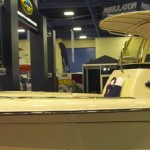 When we think of Grady-White, we usually think of center console offshore fishing boats like the Canyon 271, walkaround boats like the 280 Marlin, express boats like the 330 Express, or maybe dual-console boats like the Freedom 285, but the Grady-White 251 Coastal Explorer is an all new design for this builder.
The 251 is a bay boat, and though this builder has been around forever and has designed fishboats of all types and sizes, its never before created a skinny-water fishing machine like this. Check it out, in this short First Look Video.
Clearly, the 251 Coastal Explorer is a major departure from the norm for Grady-White. And we die-hard anglers are happy to see it. Now that you've gotten a first glimpse, if you find a bay boat from the likes of Grady intriguing, get the full scoop by reading the Grady-White 251 Coastal Explorer Bay Boat Review.
View listings for the Grady-White 251
Tags: 251 coastal explorer, bay boat, Center Console, Fishing boats, Grady-White, Lenny Rudow, offshore, review, Video