Hey! I want to give a quick shout-out to the folks at Norfolk Marine, and say thanks for letting us use your faciilites for two days of filming how to videos and new boats.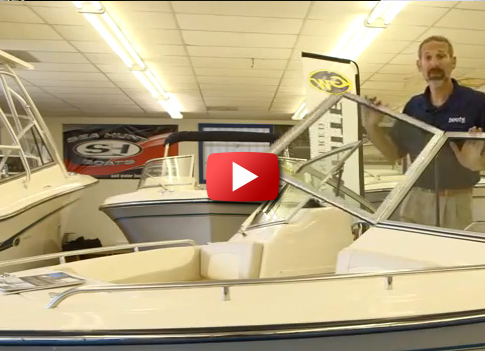 But I want to do something else too. I want to show you this Grady White Freedom. 'Cause this is one cool little boat.
Dual console boats like this have become really popular in the last few years. You get a big cockpit you can fish from, and you get a nice bow cockpit you can just hang out in and relax.
One of the things I really like about a Grady-White (and you can see it on this 192 Freedom) is how well thought out they are. You don't have to get down into the bilge to open and close the seacock, because they put this handle right here for the live well seacock.
Now let's look at the livewell itself. Again, notice how well it's been thought out. It's got a gasket that tensions down against the lip so it doesn't spill out when you're running. And it's got an overflow instead of a standpipe; they often fall out, the water drains, and all your bait dies. Good job.
Now look at this: when is the last time you saw a windshield wiper on a 19 foot boat?
This may be a little boat, but there's a lot to talk about.
Read our full review of the Grady White 192 Freedom
Tags: dual console, Freedom 192, Grady-White, Lenny Rudow, norfolk marine, short take, Video