Read the Cruisers Sport Series 238 Boat Test Notes
We're in Palm Beach today, testing Cruisers' new Sport Series. This is the 238, and if you're looking for a boat that's fun, this has fun written all over it.
With a Merc 5.0 MPI under the hatch, we cruised across this lake in the low 30s. When I firewalled the throttle, this little puppy blasts off to over 40mph.
The kind of acceleration you see here means that this boat does the trick for families who want to wakeboarding and waterskiing.
One of my favorite features on the 238 is the aft seat. It's very convertible. You can sit forward, you can flip the back and sit aft, or you can fold this all the way down and use it as a big sunpad.
The table mounts both fore and aft and the table stows inside the driver's console. One thing I didn't like so much is this door, it's a bit flimsy. But Cruisers said they were looking into beefing it up.
Like to have a multitude of drinks on board? No problem. Lots of coolers.
It's unusual for a boat of this size to have a pressure fresh water system with a sink and a transom shower.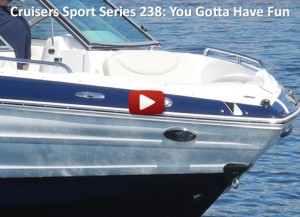 A boat this small has to have all the stowage space possible. Cruisers did a good job in the deck here. There's a deep box forward which connects to an even larger box that's a little shallower aft.
Cruisers did a great job with the helm station. I love this custom wheel, the dash is very nicely laid out, you have lighted rocker switches, and a stereo.
On a lot of bowriders you can get wet if water comes under the windshield. So I like that they put this door here that allows you to really lock out the weather when you need to.
The transom gate is not my favorite piece on the boat, it moves around a little bit, but it is convenient to open and close.
On boats in this class, engine access can be challenging. Here it's easy.  This boat has a gas-assist strut to assist raising and lowering the box, and it has sound and heat insulation.
Now Gene when I looked under the hatch, I noticed these big aluminum engine braces. Can you explain?
Gene Gooding, Cruisers Sales: We manufacture those in our plant and we use the same mount in the Sport Series that we would use in a larger express cruiser.
Lenny: One of the things I noticed running this boat in open water was it really feels solid when it hits the waves; there aren't a lot of vibrations and rattles. Can you explain some of the things Cruisers does to ensure that solid feel?
Gene: The basic boat has two parts. You have the hull. Once we've made the stringer system  we fill it with foam to give it that quiet solid ride. The other thing is the unideck makes it less parts. Here's another place you can feel the solid construction of the boat; it's balsa cored.
You know, my favorite thing about bowriders is you can do anything with them. Wakeboarding, water-skiing, swimming, whatever. And on the 238 there's only one requirement: you gotta have fun!
For more information, visit Cruisers Yachts.
Tags: bow rider, Cruisers Yachts, Lenny Rudow, Sport Series 238, Video, video boat review