Welcome to our shop, and our 1938 Herreshoff Marlin. Today I'll show you an easy do it yourself way to paint your boat's topsides.
Let's start by protecting the shearstrake and taping the edge. If the surface is dirty, take a tack rag and wipe it down so the tape will stick well.
Let me show you a trick for taping. Tape the first 4-6 inches and make sure it's stuck well. Then get 4-6 feet away and you'll have a lot more control over how fair you can make the curve. You'll be very happy with the results.
Once you've taped, go back and make sure the tape is stuck well.
Once you have both the waterline and the shear taped, let's start preparing the surface. I'll be sanding the whole topsides with my six inch DA sander, using 320 grit paper. Take your time. You're just smoothing out the surface for the final paint, not fairing. Let the tool do the work, and change your paper often.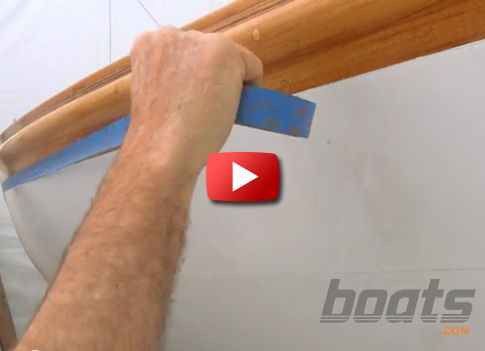 Since I can't sand right up to the taped edge with the DA, I'll hand sand the final edge.
Okay, the hull surface is sanded with 320 grit. I'll pull off the tape. This tape will have nicks in it and dust on it, so we don't want to use the same tape for painting.
Before I apply new tape, I'll tack rag the whole topside.
I've retaped the shear and the waterline. The surface is prepped and ready for paint.
I'll be using foam brushes and a one part polyurethane paint. Make sure you read the manufacturer's instructions so you do all the proper preparation of the surface and thinning of the paint.
I would not start painting too late in the day, just to prevent the moisture buildup that might happen overnight. Also do not paint in the full sun. It would be difficult to get the paint to flow properly. If you can paint undercover, I think you'll get better results.
When you apply the paint take your time; don't try to cover too big an area at once. I apply the paint perpendicular to the shear, and then brush out in the direction of the shear; it seems to give me better results.
With the painting complete, I'll pull the tape. Be careful not to have the tape fall on the painted topsides.
There she is, looking nice. We just need to paint her bottom and she's ready for another summer of fun!
Tags: How To, how to paint a boat, painting, Paul Cronin, topsides, Video