If you own an outboard engine, chances are sooner or later you'll need a new water pump impeller. And the chances are also good that it'll come sooner—not later. Some manufacturers, like Yamaha, recommend that you inspect the impeller every year and replace it every two to three seasons. To see how this job gets done by a pro, we visited Norfolk Marine and had Yamaha Master Tech Chris Breeden take us through the process.
The first step in this process is removing the lower unit. Pull the bolts that secure it, and have a friend help you slide the unit down and off of the outboard. Make sure you have a place to sit the lower unit in an upright position, before you pull it off of the engine.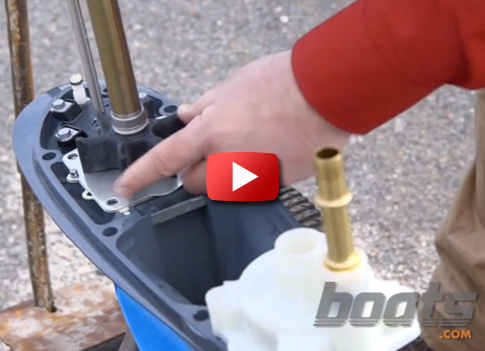 Next, remove the water pump housing bolts, and then lift off the housing. Use a flat-head screwdriver to help pop the housing free, if necessary. Now you can reach the parts you need to replace: the bottom gasket, base-plate, impeller, key, and cup. If you're just doing an inspection, look for a "set" (bending) in the impeller vanes, damage to them, or any melting or scoring on the cup. If any of these indications of wear are present, replace the parts.
With all the bad parts replaced, bolt the water pump housing back on. Then lift the lower unit and slide the shaft back up the outboard, giving the lower unit a little wiggle-jiggle until it slides into place. Then, grease the lower unit bolts (so they don't seize in place) and bolt the lower unit back on.
Finally, give your handy-work a test: hook a freshwater supply to the engine, start it up, and make sure water is flowing through the outboard as intended. Note—it will take a few minutes for water to work its way through the powerhead and to the tell-tale, on large four-stroke engines. Checking how the engine shifts is a good idea, too, just to make sure you lined everything up properly when re-assembling the engine.
More good outboard advice, from Master Tech Chris Breeden and Boats.com:
- How to Change the Engine Oil on a 4-Stroke Outboard
- How to Change the Thermostat on an Outboard Engine
- 100 Hour Two-Stroke Outboard Engine Service
- How to Winterize a Four-Stroke Outboard
- Solve Your Outboard Motor Problems: Starting, Fuel, Shear-Pins
- How To Video: Salvaging and Pickling an Outboard
- How to Change the Lower Unit Oil on a Boat
Tags: change water pump impeller, DIY, How To, impellers, Lenny Rudow, lower unit, outboards, yamaha master tech