When I found out that Alex Smith had written Music on the Water: The Top 10 Marine Audio Visual Gadgets on our UK sister-site, my knickers got in a serious twist—blimey, why hadn't I thought of that first? Then, I realized that a Brit's view of what was hot, new, and cool in the world of marine stereo systems, TV's, and other AV accessories might be a tad different than what we think on this side of the pond. In fact, those picks could even seem dodgy to a toff boater like myself. Never one to appear a knackered skaver, I pondered the ways to define an American's view of what cool new stereo systems and AV accessories introduced in 2013 are likely to be the gob-smacking dog's bollocks.
1. Aqua-Vu AV Micro Plus – What could be cooler than enjoying some AV entertainment from underwater? This system includes an underwater camera the size of a quarter, 50' of cable, and a 3.5" hand-held LCD display that's waterproof to IP6 standards. It has an internal rechargeable lithium-ion battery that powers the unit for up to seven hours, and a video-out jack. Drop the camera over the side of your boat and watch for fish swimming around, crabs scuttling past, and tea sinking by.
MSRP Price: $399
Contact: Aqua-Vu
2. Aquatic AV AQ-DM-4B – This was one of Alex's picks and I agree with everything he said about it, which was: This clever little 'Media Locker' is essentially a safe marine housing for your digital music device. It comes with its own integrated amplifier (4x45W), an FM tuner, a backlit LCD and a waterproof remote control, so all you have to do is tuck your MP3 device into the box, connect it up, lock the door and scroll through your play list with the waterproof remote. With a conformal-coated PCB, waterproofing to IP65 standards, virtually universal compatibility and a broad range of outputs, it might seem a touch simple, but it is no less effective for that.
MAP Price: $250
Contact: Aquatic AV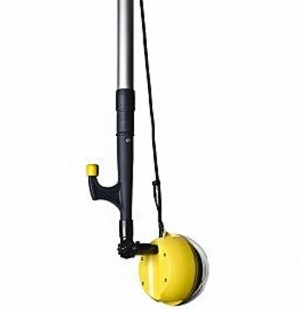 3. AquaLens Pro – Last year we told you about Aquabotix and their gadgets (Aqualens and Hydroview Offer Views of the Underwater World). This year you can get a seriously souped-up version of the AquaLens called the Pro. This model has an underwater camera which has nearly twice the field of view (170 degrees versus 92), requires half as much light, and is rated to go 300' deep—over six times deeper than the original.
MSRP Price: $1,295
Contact: Aquabotix
4. Clarion XC6610 – This is a natural pick for we red-blooded, Porterhouse-eating, Ford-driving, Budwieser-drinking 'Mericans, because it gives your stereo MORE POWER! The XC6610 has 1,000 watts of raw volume-pumping potency—I said 1,000 WATTS (750 RMS/6 channels). That's enough juice to turn any wimpy bowrider into a bone-thumping music machine that'll shake your water skis right off of their bindings. This is a Metal Oxide Semiconductor Field Effect Transistor (MOS-FET) amp, which means it's smaller and more efficient than conventional amps. It's also fitted with corrosion-resistant speaker and RCA terminals.
MSRP Price: $649.99
Contact: Clarion
5. Eton rukus Solar – My friends who have sailboats, or "sailing boats," as they're evidently called in olde English, tell me that power draw is an important consideration with their electronics. So they should be interested in the rukus Solar, from Eton. This four pound, 12" x 8" box-o-sounds links up with your smartphone or tablet via Bluetooth, and broadcasts your favorite tunes wirelessly. Or, plug that phone into the USB and the rukus will charge it while you jam. It can play for up to eight hours and re-charge in about six hours (depending on sunlight), and it comes with a free three-month MOG (music on demand) subscription.
MSRP Price: $149.99
Contact: Eton
6. Fusion Link – Fusion has been finding nifty new ways to integrate their stereos with the rest of your boat's electronics, and starting this year, that will include several new Raymarine and Furuno MFDs. This means you can use your Raymarine a, c, and e Series MFD's (they may need a free software update to Lighthouse v6, available through Raymarine), and Furuno Navnet TZTouch units,
to control all the functions of your boat's stereo right from the helm. Fusion introduced this capability with Garmin late last year, so the system also jibes with GPSMAP 600 and 700 series units (with an MS-N2KCONN or MS-N2KSTART kit). The list of integrated MFDs is expected to expand even more, as time marches on.
Price: Varies depending on system.
Contact: Fusion Electronics
7. GoPro Hero3 Black – Watching boating adventures on video is fun—filming your own is a lot more fun. GoPro has a new camera out, the Hero3 Black, which is at the top of the Hero3 line-up. This is a f/2.8-6 ultra wide-angle lens video camera, with a 12 megapixel still capability. It can shoot 1080p, and can shoot video and stills simultaneously. The housing is waterproof to 197' so you can sit it on the deck, suspend it from an outrigger, or dunk it over the side without worry. And unlike previous GoPros, this one has WiFi built in and comes with a wireless remote.
MSRP Price: $399
Contact: GoPro
8. Infinity PRV250 – Here's another one Alex and I can agree on. The PRV250 is a waterproof AM/FM/USB Player with a Bluetooth receiver. A solid aluminum chassis protects internal circuitry, which has been marinized using a conformal coating to protect against dust, chemicals, moisture, and temperature fluctuations. The Bluetooth feature enables you to leave your source device tucked safely away—or you can use it as a remote control. The PRV250 rocks with four channels at 50 watts, has an auxiliary input, a USB slot (for those who keep their music files on a memory stick) and an RCA output.
MAP Price: $199
Contact: Infinity
9. Intellian – Boaters in the US may, on occasion, wish to experience other cultures and societies (or so I'm told). But inter-continental cruising can be a major pain in the butt, because as you pass from one region to another, you'll have to change the LNB module in your boat's satellite TV antenna in order to maintain reception. Maintaining TV reception is, of course, is a necessity of life. So we were stoked to discover the new Intellian s80HD WorldView dual-band antenna, featuring a new type of LNB called the WorldView Trio, which does the switching automatically. The s80HD is a Ka/Ku-band, three-axis, 34" dish antenna and it also comes with Intellian's Multi-Switch module, allowing TV viewing on multiple screens.
MSRP Price: $24,995.
Contact: Intellian
10. Miniboat Racers – Forget about playing European games like crickets or polio, you can have a heck of a lot more fun playing Miniboat Racers, a free online boating game you'll find on a web site conspicuously called Free Online Games. Despite the Pac Man-vintage muzak you'll have to suffer through, ramming rocks and other boats is quite entertaining. Dittos for spinning virtual doughnuts. Best of all, no matter how hard you try you just can't damage your boat.
Thanks Alex, for getting the ball rolling. We hope you've enjoyed this Americanized view of marine AV gadgets. And finally, we also hope that you Brythonic boaters can finally get over losing the Revolutionary War to the society that would go on to invent the light bulb, telephones, computers, interplanetary space travel, and monster truck pulls. USA! USA! USA!
Tags: aqua vu, av, Clarion, electronics, fusion link, infinity, Lenny Rudow, Raymarine, stereo systems for boats