Welcome to Miami! We're here on a Sea Hunt 24. We're going to give it a good look through, and you'll read the review about it on boats.com.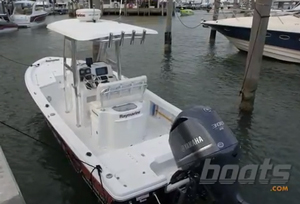 This 24 footer is designed for anglers who like to fish both the flats and the bay, and maybe once in awhile even pop outside the inlet. As you can see it's plenty big, it can handle some seas, but it still can run in really shallow water. And with that 300hp Yamaha on the back, oh yeah, it really runs.
Well we're done our test ride, sorry you couldn't join us. Read the review on boats.com for more information.
Read our full review of the Sea Hunt BX 24: Beast of a Bay Boat
Tags: bay boat, Lenny Rudow, MIami Boat Show, Sea Hunt, short take, Video