Hurricane recently unveiled its new SunDeck 2690 model at the Miami International Boat Show, a wide-beam family boat that will be the brand's new flagship. You can read our full review, Wide-Beam Hurricane SunDeck 2690 Deck Boat: Inventive Nature, or watch a quick video tour below.
We're at the Miami Boat Show onboard the new Hurricane 2690 outboard deck boat. Now Hurricane pretty much invented this market segment, built their first deck boat in 1974. They've gotten bigger, wider, full of amenities, lots of room.
This boat has this pull out jump seat, a cooler that's built in and right under the seat, an enclosed head compartment, and this refreshment center with a pressure sink, electric grill, and available refrigerator.
Everybody likes to do some towing these days, and this beautiful arch is an option on this boat.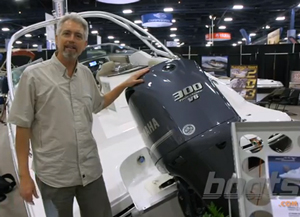 Now this is a big boat, but it's got plenty of go power. We've got a 300 HP Yamaha here, but you can put up to 350 HP on this boat.
Read Wide-Beam Hurricane SunDeck 2690 Deck Boat: Inventive Nature
Tags: Charles Plueddeman, deck boat, Hurricane Boats, MIami Boat Show, short take, SunDeck 2690