Feet don't get no respect. Yes, I realize that's not the best use of grammar in the world, but it aptly expresses everything about those blocks of maligned flesh and bone awkwardly attached to our ankles. Feet are truly the Rodney Dangerfields of the human body. We cram them into a stifling environment, crush them under our full weight with each and every step, do our best to ignore their very existence, and then to cap it all off, we gripe and moan about how bad they smell after a long, sweaty day of boating.
Of course, Rodney was eventually recognized for his comedic genius. Similarly, after you have a memorable experience or two with your tootsies (think: stepping on a nail) you tend to pay more attention to them. You do your best to make sure they're comfortable and safe, so you can go back to ignoring them again. And since you're a boater, that means finding a pair of boots that keeps those feet happy, warm, and dry. In fact, for many of us it means finding several pairs of boots to use in different conditions.
So which ones should you choose? To find out, I took some top brands and put them through their pediatric paces during a series of diverse and vigorous winter boating activities. Each pair of boots was tested in a men's size 12, and was worn for an equal amount of time during each day on the water.
Test day one was spent oyster tonging on a 22' center console, with the air and water temperatures below 40 degrees. Day two was spent fishing on the same boat, in moderately rough conditions. And day three's testing took place during a day of waterfowl hunting on a leaky old 16' skiff. Here's what I discovered during those three days of sole searching.
Crocs AllCast Slip-on Duck Boot
Price (approx.): $50
Style: Ankle-high Croslite (closed cell foam resin)/rubber/leather combo
Comfort Level: High
Wearing the Allcast Slip-on Duck Boots while oyster tonging, I was wishing for another pair of socks. These boots have a comfy fuzzy lining, but it's really not heavy enough to rely on in the middle of winter. Days two and three were much warmer, and with temperatures in the 50's or above they provide plenty of warmth.
I love how these boots seem to mold themselves to fit your feet, and how easily they come on and off thanks to the pull-on tab on the back and the relatively low cut. My feet never got wet although Crocs only claims this model is waterproof to the stitching, which isn't much higher than your foot. With most boots of this nature the stitching line usually leaks after a few years of use, so I'd expect that with the Crocs this will be true as well. Consider these best used when you plan on being spritzed, not swamped, in relatively mild weather.
Evair Marine/Fishing Boots (by Shimano)
Price (approx.): $70
Style: Over-the-ankle-high EVA copolymer
Comfort Level: Extremely High
A tip from my physical therapist: grab your footwear with one hand on the toe and the other on the heel, and try to bend them towards each other. The harder it is to bend the sole, the better the arch support is likely to be. The Evair is made with a one-piece EVA molded sole which absorbs shock and supports the arch, and when I tried to bend this boot, it was like trying to bend steel. Within half an hour of wearing them I could feel the difference in my legs and back, and I'll be wearing the Shimano Evairs quite a bit in the future.
Other high points: they're easy to get on and off, molded-in air channels help your feet breathe, these boots were the most grippy on wet fiberglass non-skid, they weigh just eight ounces, and the one-piece design means they're waterproof right up to the cuff and will remain so for good. One potential low point: like the Crocs, the liner isn't incredibly warm. Save these for summer-wear, but plan to wear them a lot.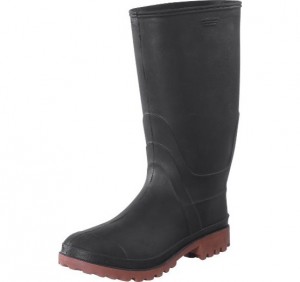 Kamic Ranger
Price (approx.): $27
Style: Calf-high rubber
Comfort Level: Medium
The Kamic Ranger is your standard, run-of-the-mill rubber boot, and its strongest quality is its price. At about half the cost of the next least-expensive pair you can't expect a lot of perks, and you won't get them. There's no real insulation, arch support is weak, and they're tough to get on and off.  Did we mention how cheap these things are?
Since the Ranger is rubber all the way up to mid-calf, it's a good choice for use on fishing boats with mates who are overzealous with the washdown hose. Buy a few pairs, toss them in the cabin, and break them out when guests need a pair of waterproof boots or you forget to bring your good ones. Note: Kamic also makes much nicer boots and this is merely their low-end offering, so don't judge the entire brand by this pair.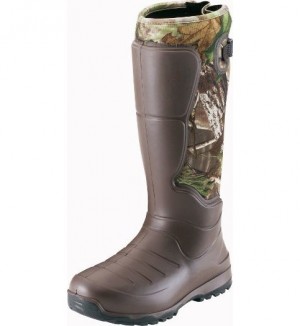 LaCrosse Aerohead Real Tree Xtra Insulated Hunting Boots
Do most boaters need a pair of "hunting" boots? Not necessarily, but the Lacrosse Aerohead is a great choice when waves are going to be washing around your feet, since its coverage goes a foot and a half up your leg. And it wins the insulation race in this bunch—the 7.0MM neoprene kept my feet warm in all conditions. Naturally it blended in well when hunting from the skiff, and there's no real down-side to wearing camo boots on boats unless you're afraid this type of pedes protection might offend those PETA people.
The polyurethane-over-neoprene construction makes the boots fit and feel like a glove. An adjustable gusset on the back lets you tighten the top of the boot around your leg. These features are great for comfort, but not so great for getting them on and off. You may want to choose a different pair if you'll need to get into and out of your boots multiple times a day. If you need maximum cold weather protection, however, the Aerohead is an awesome pick—LaCrosse rates them for use down to -60 degrees, and after having toasty toes even while tonging, I believe them.
LL Bean Men's Bean Boots
Price (approx.): $119
Style: Calf-high leather over rubber
Comfort Level: High
Just about every outdoorsy type has a pair or three of these classic boots stowed in the back of a closet somewhere. The tops are constructed of full-grain leather and the bottoms are rubber. They keep out water as long as it doesn't come up over the top of the rubber, but the upper leather section is best described as water-resistant, not waterproof. I found the soles a bit less grippy than some on the center console's wet nonskid fiberglass deck.
LL Bean will be the choice of many boaters who care about style as well as performance, and while these weren't the very warmest boots, nor the lightest, nor the best-breathing, for all-around comfort in the most diverse conditions they rank right at the top. Get them as your pair of do-anything, cruise-anywhere boots. Note: ankle-high versions are also available, for about $30 less.
Which of these boots is going to be best for you? That's a choice only you can make, but hopefully, my on-the-water experiences with these five pairs will help you make an informed decision. No matter which you opt for, one thing is for sure: with a pair of these new boating boots, your feet will finally get some well-deserved respect.
Now, if there was only something we could do about that smell…
Tags: boot, boots, crocs, kamic, lacrosse, Lenny Rudow, LL bean, llbean, mens footwear, shimano