Last week a buddy took me duck hunting on his new Carolina Skiff J 16, and as far as center console boats go, this one was perfect for the job. In fact, it's also perfect for wild game harvesting activities like inshore angling, crabbing, or even oyster tonging. And it'll also get the job done for activities like wakeboarding, water skiing, or just plain old playing around on the water.
The real beauty of the J 16 lies in its simplicity. Like many other Carolina Skiffs, this model was originally designed to be shipped in a stack-able form, without the console or decking, cutting on transportation costs. Then it's left to the dealer to configure the boat to your desire (with or without forward or aft raised decking, the console, bench seats, rails, etc.). This allows Carolina Skiff to build and sell the J series for rock-bottom prices. In fact, the base-boat without power costs just a few thousand dollars. Fully rigged with an outboard engine (up to 40 horses maximum), you can still keep the price under $10,000. In today's market, that's awfully hard to beat.
The downside to their stack-able nature is that this boxy, flat-bottom design is bumpy in a chop and throws a lot of spray in most conditions. Carolina Skiff did add extend chines up the bow to form spray rails a few years back and the new version is drier, but on breezy days, you'd better plan on wearing a slicker.
The boat's simplicity also accounts for its multi-tasking aplomb. With the wide-open deck space and an absence of integrated accessories, you can use the boat for just about anything. Plus, it's amazingly easy to clean—a hose, a scrub brush, and ten minutes was all it took to make the boat look like new, even after pulling it into a marsh and tromping in and out of it with mud-covered waders.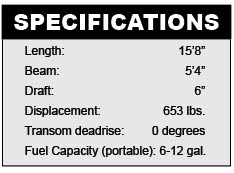 Speaking of pulling it into a marsh: another great thing about the J 16 is that you can use it—and more or less abuse it—without worry. We dragged it across the mud, parked it on sand, and hit a log, without ever causing any damage. The J 16 is constructed of all composite materials, with pre-formed closed-cell foam logs creating a box-beam structure between inner and outer layers of fiberglass. This not only creates a rock-solid single-piece structure, it also provides floatation well in excess of Coast Guard standards. So much floatation, in fact, that the J 16 is one of the few true self-bailing boats of its size.
If you're looking for a small boat that costs as much as a new car, has a slew of integrated accouterments, and impresses your friends and neighbors, keep looking. If you want a tough skiff that you can run hard and put away wet, the Carolina Skiff J 16 belongs on your short list.
For more information, contact Carolina Skiff.
View Carolina Skiff J16 listings
Tags: Carolina Skiff J 16, Center Console, hunting boats, Lenny Rudow, skiffs