If the Iguana 24 had been introduced earlier, this truly unique creation would have easily made our Top 10 Coolest Boats Ever list. Sure, it looks (ummm…) unusual. Yes, the 40-knot wave-piercing hull is (ummm…) unusual. But the kicker is a pair of hydraulic arms that swing down out of the hull to deploy a pair of motorized rubber tracks.
In the water the Iguana depends on a single outboard up to 250-hp for power, but on land, can be configured to run in emission-free electric mode. Once the tracks are down it can run at a hair over four mph, on angles up to 11-degrees. According to the manufacturer, it's an amphibious craft that "by nature blends into the environment." We might argue that last point.
Boat-wise, the 24 is essentially a center console with a leaning post, seating built in around the inwales, and an otherwise open deck. The integrated swim platform sports a four-step boarding ladder, the deck is teak, and multiple hull colors are available. Go for the "Classic" package, and you get top-stitched leather upholstery, painted highlights, and a Bose sound system. Or up the ante and get the "Exclusive" package, which includes—we are not making this up—gold-plated cleats.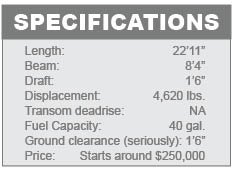 The manufacturer says that the inspiration for the Iguana came from CEO Antonie Brugidou, because between the bay of Mont St Michel and the south of Jersey (the Iguana is built in France), the tide can go out for miles and boaters have to navigate sandbanks, rocks, and currents. We say that whatever triggered this quirk of evolution, we like it. In fact, if we had a spare quarter mil or so sitting around, this would probably become the new boats.com staff project boat. The name: Lizard Breath.
For more information, visit Iguana Yachts.
Specs:
Tags: amphibious boat, iguana yachts, Lenny Rudow, tracks