Pontoon boats like the Harris FloteBote SL 250 don't come along too often, and when you first step aboard you'll see why at a glance: this boat is riddled with features befitting a lake-yacht, from stem to stern.
But real boaters are not so easily impressed. If you have a few years of experience under your belt, you'll also want to delve into the boat's construction and hull design. These critical features are all too often considered mere afterthoughts on toons, when compared to superficial items like looks and seating—the drivers of many pontoon boat sales. So when we spent a day testing the SL 250, we put it under the microscope.
First off, construction: the pontoons are welded with three separate chambers, to give you a huge safety margin. And the nose cones are reinforced and have double cross-bracing in case of collisions or groundings. Lean down and give 'em a rap with your fist, and you'll see just how sturdy they are.
And while you're down there, also take a moment to glance up at the deck braces. They look a bit closer together than those on other pontoons, don't they? That's because Harris Floteboat mounts these on 16-inch centers. Most other pontoons have fewer braces, on 24-inch centers. Net result? When you go running through waves, the pontoons and the deck stay securely affixed to one another, without creaking and groaning as they twist against each other.
Also note that those braces extend beyond the pontoons, and meet the rubrail. If you kiss a piling a little too hard, that'll prevent the rail from denting. Some other construction techniques that out-do the norm include a gate stop that runs the full height of the entry doors, the addition of vibration-killing foam tape in the fence, roto-molded furniture bases, and the use of an incredibly chunky swim ladder which could easily hold Sasquatch.
The SL 250 also shines when it comes to hull design. You mean they really design pontoon boat hulls? Well, not everyone does, but when you look down the length of this tri-toon, it's obviously not the norm. First off, notice the double spray shield on those reinforced nose cones. They work—the entire time we ran the SL 250 the deck stayed bone-dry.
Next, look at the placement of the logs. The outer two are on one level, but the center pontoon is dropped down several inches. This encourages the boat to bank in turns and behave more or less like a monohull; you can see it in action, and feel it at the wheel.
Now, look down the sides of the center pontoon. You'll see two significant aluminum protrusions, welded onto either side. These are added strakes, which are stepped towards the rear. They have the same effect as adding a step on the bottom of a V-hull, breaking adhesion and aerating the back of the center pontoon.
You'll feel the results of the enhanced pontoon design at the helm. When I ran the Grand Mariner I felt like it was an actual boat, as opposed to a platform on a couple of logs, even in hard turns and quick manuevers. It cruised in the 30-mph range, and when I firewalled the 300-hp Mercury Verado outboard, I hit 41.3-mph.
Okay—enough of the serious stuff. Even though we know to look beyond the boat's initial appearance, we still care about the gloss, right? You'll be most impressed with the Grand Mariner's looks if you check it out after hours, because then you can fire up the boat's lighting system. This isn't just a set of running and docking lights, with some rope accent lighting for good measure. It goes far beyond that mark, with LED-lighted cupholders and stereo speakers, courtesy lights, rope lighting under the furniture, and even an underwater light next to the swim ladder.
All of those  lights are controlled from the helm's custom touch-screen display, as are other accessories on the boat. There are even forward and aft cameras, which can be displayed on the same screen. And that screen also is a fully-functional chartplotter, or can be set to display engine data and gauges. This system keeps the helm compact, un-cluttered, and slick-looking, but if this were my boat I'd also want basic gauges like RPM and trim angle added in an analog version, because when the sun struck the screen from the wrong angle and I was wearing my sunglasses it became tough to see at a glance.
The furniture is another item that we can't forget to assess in detail. And in this case, the details reinforce this boat's positioning at the top of the heap. The roto-molded bases were plenty thick and the cushions plenty soft, but more importantly, some thought clearly went into their design. Access the stowage areas, for example, and you'll find that the cushions are on large, beefy hinges that swing up and hold the cushion in place. The aft lounge has a waterproof stereo remote, and there are cup holders within reach no matter where you sit.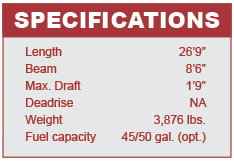 So the kids are ready to go wakeboarding or water skiing? These activities have also been considered by the Harris FloteBote's designers. The tow "bar" is sturdy enough to climb up (yes, I did) and is tall enough to give wakeboarders an elevated tow line. It doesn't have board racks, but there's plenty of room to stow water toys in the integrated deck box, which is six feet long.
So, does the SL 250 really deserve the moniker "lake-yacht?" After spending a day on one, I sure thought so. Take a look for yourself, and I'll bet you agree—and you won't need a microscope to prove it.
For more information, contact Harris FloteBote.
Other Choices: The Cypress Cay Cozumel 250 and the Platinum 25 RFL are other large, well-outfitted tri-toon pontoon boats you might be interested in.
Test conditions – A one foot chop with a 15 knot breeze.
Power – 300-hp Mercury Verado outboard. Prop – 15 x 15 3 blade stainless-steel. POB – 1
RPM   MPH GPH MPG
1000   5.3   1.3   4.1
2000   9.7   3.4   3.9
3000  18.4   8.5   2.9
3500  22.2  10.9  2.0
4000  25.4  14.4  1.7
5000  33.1  23.1  1.4
5800  41.3  29.8  1.4
Tags: 250 SL, Grand Mariner, Harris floatboat, Harris FloteBote, Lenny Rudow, pontoons, tri-toon