Every once in a while, a new model comes along that has the potential to not only redefine the manufacturer that built it, but also the entire industry. Supra's new Launch SA350, SA450, and SA550 have the potential to do just that.
First, a word on its name. The nomenclature covers three boats in one. The SA designates shock and awe—and it isn't unearned. For example, in its most sedate form, the boat comes with a 345-hp Surf engine, a first-generation small-block from Indmar. Supra bumps up the nomenclature and the output with the next engine, the 450-hp LS3, in its SA450. And for those for whom too much of everything is just enough, the SA550 comes with Indmar's LSA, a 550-hp supercharged GM mill lifted from Cadillac's CTS-V.
But the Launch SA goes beyond powertrain. From the design, hardware, and switchgear, to materials used and the level of refinement they create, the SA marks one giant leap forward for Supra.
"It's radically different from anything we've done in the past," said Skier's Choice Marketing Director Amy Mauzy. "We felt there was a need in the market for a boat of this size, that catered to these disciplines, that had this type of luxury. It's definitely been a long time coming."
In development for nearly three years, according to Mauzy, the company started with the wake. Supra wanted to really elevate the performance and create a new model that was not just the choice of pro riders, but also something a beginner can grow with, through the intermediate skill levels all the way to pro status. As such, the standard ballast system holds 900 pounds of water, with an optional system that bumps it up to 1,300 pounds, all of which is retained belowdecks. The tower also is something that works at all levels. Developed cooperatively with Roswell, the proprietary tower is fitted with swivel board racks that hold wakeboards and surfboards, swiveling speakers, a dome light, accent lighting, and weight assist to make it easy to raise and lower for bridges and storage.
At the stern, Supra designed what it calls the "Battle Prep" transom, which is fitted with twin padded seats with wet stowage underneath a step pad over the engine compartment, cupholders, and available stereo controls. Supra built it as much for gearing up as relaxing. "What we tried to do is just make it fun," Mauzy said. "We designed the boat in that way because that's what we do when we're out on the water with our families. We're hanging out and swimming sometimes almost as much as we're surfing or wakeboarding behind the boat. We tried to make it very social."
In terms of creature comforts, the SA has them. One key item is the bow, which sports the wide styling that has become almost de rigeur in today's tow boat market. Supra calls it the "Barrage" front end. Just don't call it a pickle fork.
"A pickle fork typically was a drag boat, a go fast boat," Mauzy said. "For us, we built it this way so it had a large comfortable bow, obviously, because that is something the consumer is looking for. But past that, we felt like where the market had been missing is in adding some elegant style and some deliberate lines to that kind of design, and that's where Ryan (Lewis, the boat's designer), I think, hit it out of the park. In conjunction with the look, we got a wider bow," she said, adding that the bow backrests are angled for comfort and provide access to stowage in front the driver and observer. "We're not going to say that you can fit 10 people up there, but it's definitely a bow that a six-and-a-half-foot dude can spread out in and still his feet don't touch the end of the boat. It's very comfortable."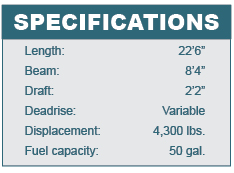 In the cockpit, Supra mounted all the lounge cushions on "flipped out" hinges, which allow you to lift the front for tossing things underneath, and to pull them up and out from the back for more complete access.
At the helm, which is simply stunning, Supra used knurled-aluminum panels to house the switchgear, all of which is done to great effect when contrasted with the French-stitched vinyls on the dash and gunwales. Supra also incorporated its new VISION Touch dash display, which now features touch-screen capability and 16 rider presets. It also has three driver presets, which adjust the electric seat height, heater settings and even the color of the dash background. Pretty nifty.
"The guys in the plant were telling me how excited they were about getting it done and seeing how it's received," Mauzy said. "They're pretty pumped up right now."
For more information, visit Supra Boats.
Tags: Brett Becker, SA, SA350, SA450, SA550, Supra Launch, wake surfing, wakeboard, wakeboarding, watersports