The Everglades 230 DC is this company's first foray into the world of dual consoles. Did they get it right? We could boil it all down to a simple "yes," but this wouldn't do the boat justice. Like many Everglades boats, it's not a copy-cat and it's not an also-ran; even though plenty of other manufacturers have gone down the DC road, the 230 walks alone.
The first item to note about this boat is its construction. Like other Everglades it's built with the RAMCAP (rapid molded core assembly) system. Instead of molding a hull and deck and then spraying foam in-between, as many boatbuilders do, with RAMCAP they start with a core piece of pre-molded closed-cell urethane foam. Then they pressure-bond the hull and deck together, and to the core. The net result is a one-piece structure, and the 230 DC is the only dual-console on the water to offer it.
Another unusual feature is the windshield. It's frameless on the front, and on the sides grab rails are integrated. The look isn't merely slick, it's also more functional since there's less metal obstructing your view from the helm. And the 230's arch is also a nifty touch, featuring a unique convertible sun shade plus four rocket launchers, antenna, and outrigger mounts.
Of course, such beefy construction methods and thorough equipping doesn't come cheap, which leads us to the downside of buying this boat: Its cost goes into triple-digit territory. That makes it one of the most expensive DCs of its size on the water. Even though Everglades boats do tend to maintain excellent resale value, it'll be a big bite out of the family till to put one in your slip.
Despite the fact that the 230 DC is built for multi-use pleasure, true to the company's heritage it still comes rigged and ready for fishing. There's a 27-gallon lighted livewell, a 60-gallon fishbox, and four under-gunwale rodracks. But accommodations have been made to encourage family waterborne adventures too, and none will severely impact the boat's fishability: The port console space is utilized as a head compartment, space under the deck is dedicated to a ski/wakeboard locker, and there's a pair of small swim platforms on either side of the outboard.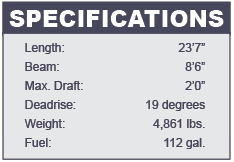 With a single Yamaha F300 hanging on the transom, the 230 DC has plenty of fire under the hood. Top-end breaks 48 mph, and zero-to-30 acceleration takes all of a head-snapping 6.8 seconds. Set the throttle to a 4500-rpm cruise, and you'll be zipping along at 37.3 mph while getting a respectable 2.4 mpg.
RAMCAP construction? Check. Gobs of standard equipment? Check. Zippy performance? Check, and double check. The 230 DC might be Everglades' first-ever attempt at building a DC model, but after running this boat there won't be a doubt in your mind—yes, they did get it right.
For more information, visit Everglades Boats.