Some boaters will pay top dollar to get the boat of their dreams—even if that watercraft must be custom-built, like a Bonadeo 368.
"We're a family company," says Tony Bonadeo, company vice president of operations. He and his dad, Larry, the founder of the company, head up the business. "We build only one to four boats a year. Our boats are one piece—nothing's left unfinished. Everything is top notch."
We'd agree. The workmanship on the Bonadeo 368 Walk-Around, a center console design with an extended center cabin, stands out from other center consoles. Just take a look at the white gelcoated lazarette with its stainless-steel seacocks, the meticulous electrical wiring in the console, and the teak rails that rim the bow.
Bonadeo uses fiberglass, Kevlar, carbon fiber and a composite core—vacuum-infused with vinyl ester resin—to build the boat. "When we're done it's a totally monolithic boat, with everything fiberglassed into place for a solid but light one-piece structure," Bonadeo says.
The 368 is the company's seventh boat, and it leads the fleet as its flagship. The company has also built 31' and 34' models.
Triple 300-hp Mercury Verados push the Bonadeo to a top speed of 60 mph, and she'll cruise from 40 mph to 50 mph. You'll find the best mileage rating (1.2 mpg) at 4,400 rpm and 40 mph. At this setting the Bonadeo has a range of 350 miles, based on 90 percent of the 324-gallon fuel capacity.
Bonadeo says the 368 isn't an average monohull design. It has no lifting strakes and a bottom that begins in a convex shape at the keel and changes to a concave one toward the chines. "It works like an airplane wing, building lifting pressure from the center," says Bonadeo. "You end up with a solid, deep-V-feeling boat when you're running, but at rest it's stable like a flat-bottom boat."
The sitting surfaces of the boat's three-person helm seat flips up for support while standing. 
The 368 has a triple-seat helm, and the helmsman pilots her from a Palm Beach-style teak helm pod with a stainless wheel and an oversized steering knob.
Under the console, a cabin extends forward to house a queen-size berth. A sink and vanity are also standard, and the boat can be ordered with air conditioning and a flat-screen TV.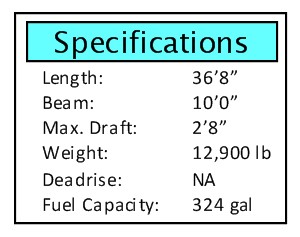 There's plenty of headroom in here, at 6' 5". The wiring for the helm components is behind a large access door opposite the berth. The builder neatly bundles and cable-ties the wiring, and covers the terminals with rubber boots. Grommets guard against chafing.
With a trio of 300s, the Bonadeo's base price is $375,000. Top dollar indeed, but worth it for the boat of your dreams.
For more information, visit www.bonadeoboatworks.com.
Tags: battlewagon, Bonadeo 368, console cabin, custom built