Read Charles' 2013 Crestliner 1850 Super Hawk Boat Test Notes
Read our text review of the 2013 Crestliner 1850 Super Hawk
Well it's June in Minnesota, and 45 degrees when we got down to the dock. But it's a good day to be testing this Crestliner 1850 Super Hawk. Today I'm really loving this big windshield.
Interview
We're here today with Christine Bush from Crestliner Boats and the Crestliner 1850 Super Hawk. Now Christine, this is a fish and ski boat. So it's designed to be used as both a family runabout and as a fishing boat.
Christine: Yes.
Now Crestliner offers a number of seat options in the Super Hawk. Christine, can you talk about that a little bit?
Christine: Absolutely. In the standard boat, you'd receive port and starboard storage compartments, and then you can optionally select the aft jumpseats. We also have a full-width stern bench option that flips over for an even larger casting deck.
But you always get a live well in the middle?
Christine: Correct. No matter which configuration you choose, you always get the standard livewell in the center of the boat.
Features
Christine showed us some of the rear seating options that are available for the Super Hawk, but in all cases there's a pair of seat pedestals for these fishing seats. So you can put side by side seats back here. If I'm out with my daughters, I think this is a great way to set it up.
Now the kids may not want to fish all day. When it's time for tow sports, you can install this optional ski pylon.
Now other aspects of this boat's dual personality can be found here at the helm. We've got a sport steering wheel on a tilt column. We've got a spot to mount fishing electronics, a stereo on this side, an MP3 input jack, and a nice cubby for your iPod.
Both console tops are molded of this durable composite material. We've got an enlarged glove box here, and room for a cooler in the footwell. If you get the optional trolling motor, the batteries stow behind the speakers.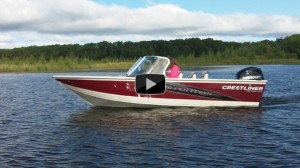 Now this boat is set up as more of a family runabout. with options including this full set of bow cushions. But you can always fish from a Crestliner!
Now if you want your Super Hawk more fishy that family, and these standard gunnel-mount rod holders aren't enough, you can turn the ski locker into a rod locker with optional holders there too.
You can also add this great anchor set up, which is made possible by moving the trolling motor outboard on this special bracket.
Performance
We've got Mr. Verado on the transom of our test boat, 175 HP, power steering, and digital throttle and shift. We saw a best fuel economy of 5.7 mpg at 26 mph, and a top speed of 51 mph.
Trust me, there's plenty of power for family boating.
Wrap
Obviously, the Super Hawk series has a full complement of Crestliner fishing DNA. But when it's family time, this is a boat that can do double duty.
Tags: 1850 Super Hawk, Charles Plueddeman, Crestliner, Fish and ski, runabout, Video, video boat review