Watch the video: Cruisers Cantius 48: The Original Sport Cruiser
Overview: This is the original Cantius model, a first-of-the-kind boat which has set trends in modern boat design.
Concept:
-Enhance natural lighting with 360-degree glass and a huge overhead sunroof.
-Bring the natural lighting into the lower cabin, with an atrium-like overhead in the galley and lower dinette.
-Raise the deck and house slightly, allowing for maximum room and headroom in the mid-cabin.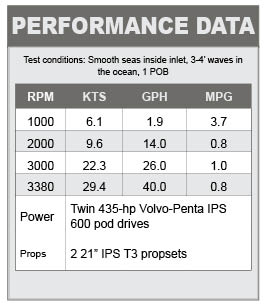 Construction:
-The boat's structure consists of three main parts, including the hull, deck, and a single-piece liner running from the engineroom bulkhead to the anchor locker.
-Hatches and lids are RTM molded for the most strength and the least weight, most are supported by gas-assist struts, and are hinged with beefy stainless-steel.
-All mechanicals, wiring harnesses, and even individual wires are clearly marked and labeled.
Performance:
-Cruises in the mid 20's.
-Top end breaks 33-mph.
-Rough-weather seakeeping is excellent; vibrations and water noise are minimal.
Handling:
-IPS pod drive powerplants make dockside handling a breeze.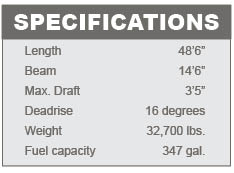 -Carves out and leans into turns like a standard deep-V.
Unique features:
-Mid-cabin stateroom feels huge, enjoys a private head with shower, and has standing headroom.
-Natural lighting in the salon is unequalled; meanwhile, the galley-down and lower dinette also enjoy the natural lighting.
-People in lower and upper cabins can easily converse, without shouting.
-Transom has walk-throughs on either side, for accessing the swim platform.
For more information, visit Cruisers Yachts.
Tags: Boat Test Notes, Cantius 48, Cruisers Yachts, Lenny Rudow