Read the Cruisers Cantius 41 Boat Test Notes
Find a Cruisers Cantius 41 for sale
Cruisers broke new ground with their Cantius Series, but some people wanted a smaller, sportier version than the original 48. Thus, the 41. Does the appeal carry through this boat as well? Let's find out.
The ambiance is just like on the Cantius 48: tons of open space, natural light, windows everywhere. But, when you lose LOA, you have to give up something. What do you lose on the 41?
Jon Viestenz, Cruisers Production Manager: Well, some of the areas where you'd notice the difference are in the wet bar area and the stowage in the upper helm area, it's a little tighter. The seating arrangements and the furniture is identical.
Lenny: Jon, I noticed when I came down into the engineroom that everything is labeled – the fuel filters, the pumps, everything.
Jon: Yes, not only are they labeled they're positioned so you can reach them easily, and in addition the wiring harnesses to each of the accessories has a label on the jacket. Every wire on the boat is marked.
Lenny: If you like the idea of bringing the outdoors indoors, you'll like the big, giant sliding (salon) door. Now, if you're a boater, you'll like how well it's built.
The dinette table is an excellent example of how well Cruisers thinks things through. It looks like you just fold it open, and it's a little floppy. But, check this out (opens additional supports) it's really nice and stable.
Bringing the outside inside is the heart and soul of this boat, and with the automatic sunroof all you have to do is press a button. The side windows also open and close at the press of a button. I love these – great ventilation – but if this were my boat I'd be very cautious about leaving these open when someone was walking back and forth from the bow.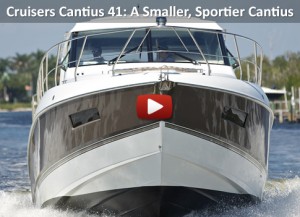 One of the really neat features on the Cantius series is the connection between the lower and upper cabins. I can be down here prepping lunch or cooking, and I can still hold a conversation with people seated at the dinette or the helm.
Even though the 41 is significantly smaller than the 48, this is still a two-head boat. And, how many day-heads on a 41-footer have a day head this big? You'll find the second head here in the mid-cabin, and I really like that they brought the molded lip up nice and high so water doesn't go splashing out onto the carpet. The mid-cabin also has a pair of berths, a flat-screen TV, and a stereo. In the forward cabin, there's a queen berth and a cedar-lined hanging locker. There's even an optional central-vac system.
Even though there's a full galley inside, you've got to have the electric cockpit grill. After you're done grillin' and chillin' there's a four-step ladder built into the platform, for swimming. On the back of the transom you have a raw water washdown. And, there's a hot/cold freshwater shower. This isn't my favorite unit, the door seems a little funky to me like it might break, but Cruisers said they realize this too, and they're going to upgrade it.
On a lot of express cruisers there's a real temptation to blow out the cabin as much as you can, to give as much interior volume as possible, and really squeeze down the sidedecks. But that makes it tough to get forward. I really like that on the 41, there's still plenty of room. Once you're up on the bow, you have a great double-wide sunpad that converts into a lounger. Now, if you examine a 41 for yourself you have got to look at the anchor locker. Notice how smooth this is, because everything is recessed. You have up and down foot controls,a raw water washdown so you can rinse off the pretty stainless-steel anchor, a manual back-up handle, a gas-assist strut on the hatch, and there's a recessed drain so water doesn't pool up. Nice job.
With the Volvo-Penta IPS 450′s we cruised around at over 20 knots and topped out well over 25 knots. Can this boat handle seas? Let me tell you, we went through Jupiter Inlet with a stiff 20-knot breeze blowing and yes – this boat can handle some seas.
So: does the Cruisers Cantius 41 fulfill its mission? Is it a smaller, sportier version of the 48? Does it maintain that open attitude? You bet it does. If you're looking for a 41 foot cruiser, this is one you've got to check out.
For more information, visit Cruisers Yachts.
Tags: boat test, Cantius 41, Cruisers Yachts, Lenny Rudow, Video, video boat review