Read Charlie's 2013 Crestliner Kodiak 16 SC Boat Test Notes
If you're an angler on a budget, but you don't want to sacrifice quality, I think this Crestliner 16 Kodiak SC is a boat you should look at. Now Crestliner redesigned this boat in 2012 with a new hull, a half inch more beam, but most importantly, a lot more room inside.
When Crestliner redesigned the 16 Kodiak they only increased the beam or the width of the boat by half an inch. But the cockpit seems a lot larger, and here's how they did that. These boxes contain flotation and used to run farther forward, and were narrower. In the redesign, they made the boxes deeper and brought them farther aft. This makes them a better seat, and also leaves a lot more room in the middle of the boat.
Now boat design is always a compromise, and by moving these flotation boxes back, there's no space for a rod locker in the gunnel. Instead Crestliner's given this Kodiak a seven foot here in the floor.
Now we talked about the quality that Crestliner builds even in this entry level boat, and here are some examples. All the hatch covers are aluminum, and the bottom is sprayed with this durable bedliner like material.
I also like that all the hatches have a full length piano hinge.
Now if you're an angler, you hate snagging your hook on stuff in the boat. Which is why I like the way Crestliner's created some aluminum conduit to cover up the wires, and even covered up the sharp edge with a little grommet. They've also covered up the wiring for the running light on the back.
Another construction feature we really like on this Crestliner is the way the cleats are through-bolted with these stainless steel bolts, through an extruded aluminum gunnel.
Now in a  lot of entry level boats, the console is the first piece to fall apart. That's not going to happen with this Crestliner, because the base is made with this durable rotomolded plastic. On top we have room for a speedometer and a tachometer, and a fishfinder on the side. And I really like the angle of the steering wheel because it gives me good leverage.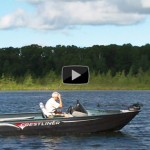 I really like this storage area under the console, but I really wish Crestliner would add a little ledge here so that things won't fall out.
Now Crestliner's completely redesigned the storage options on the bow of the 16 Kodiak. We've got a 12 gallon aerated livewell. The old boat just had one hatch for the bow storage; now there are two, and they're cut to maximize their size. This compartment goes all the way underneath the bow. And up here we've got room for the trolling battery.
Performance
Well it's nice and calm here in the channel, but that's good because it was really rough out there on the lake. It's a good chance to test this new hull. Now Crestliner added some reverse chine to the new hull, which did a nice job knocking down the spray. This boat feels really solid in rough water for a 16 footer.
Now when Crestliner redesigned the hull for a 16 Kodiak, it was able to increase the maximum horsepower rating from 50 to 60 HP. We tested with the Mercury 60 4-stroke. Even with this bigger motor, we got outstanding fuel economy. At more than 23 mph, we were getting 11.6 mpg. Top speed at 5800 RPM was 34 mph.
Wrap
We've had a great day out here on the water with the Crestliner 16 Kodiak SC. It's a boat with a great price, terrific economy, and it will give you good resale value down the road. This is an entry-level boat even I'd be proud to own.
For more information, visit Crestliner.
Tags: 16 SC, 2013, Charles Plueddeman, Crestliner, Kodiak, Video, video boat review