Read Charlie's 2013 Crestliner 1860 Retriever Center Console Boat Test Notes
So my wife says I do my best work standing up. I think she's talking about the dishes. But I also like to stand at the helm of this redesigned Crestliner 1860 Retriever Center Console. This is an all-welded rugged aluminum boat designed for the avid sportsman who wants to hunt, fish, trap, or just about anything else on the water.
Features
This Retriever is a boat of a different color. This is one of three camouflage patterns that are available on the boat. You can also get it in standard green, and several other colors.
When they redesigned this boat, Crestliner relocated the livewell from the deck up here to the casting platform. This new well is 23 gallons, twice the size of the old one. Because there's no well here now it's easier to walk around the console, or you can mount your own cooler.
This Retriever model is 18 feet long, with a generous beam of 7'1″. You've got a lot of room back here on the aft casting platform. We removed the aft fishing seat so you can see we've got a hatch to the bilge, with good service access to the battery and pump.
This boat used to come with a portable fuel tank, but Crestliner's added a built-in tank with the fill over here to port.
This 52 quart cooler works great as a seat for me, but it's not adjustable.
Interview
We're here in Minnesota to take a look at the redesigned Crestliner 1860 Retriever Center Console. We're here with Christine Bush from Crestliner. Christine, when I walked down the dock the first thing I noticed about this boat is the nice curve you've added to the console and the vertical rodholders on the side. What are some of the other new features of the console?
Christine: We've added a drinkholder to the top of the console, as well as providing a flushmount electronics space of 5 inches. If you want a larger fishfinder, you can still mount one on the top of the console. And the top of the console was raised to improve the ergonomics of driving while standing or seated.
Construction/Design
Like all Crestliner boats, this Retriever is manufactured with all-welded construction of durable aluminum. It's a mod-V bottom with 3.5 degrees of deadrise. It's not going to carve turns like a v-bottom, but it will really get you back in the marsh.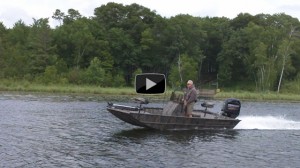 Now here's another construction feature we really like on the Retriever. To stiffen the hull, Crestliner adds vertical ribs to the hull sides. But that would make it difficult to mount accessories here. So they've added this aluminum panel to give you a flat surface for these rod holders, and anything else you want to put here.
I think most guys who buy a boat like this want to outfit it for their specific needs. The Crestliner really lends itself to that. You have a lot of room on the console for electronics or anything else. You can order this boat with a durable non-skid spray-in liner. You can even add a shell box or a boarding ladder for your dog to this extruded aluminum Lock-Track gunnel.
Performance
I can tell you that the Retriever can get you home from the duck blind in time for dinner. With a Mercury 90 four-stroke on the transom, we ran 41.2 mph at WOT. We had our best fuel economy at 22.6 mph where we got 8.4 mpg.
Wrap
You might be pulling a crankbait or a crab pot or the trigger on your shotgun. But this Crestliner that will keep the sportsman out all year long.
Tags: 1860, aluminum fishing boat, Center Console, Charles Plueddeman, Crestliner, fishing, hunting, Retriever, video boat review