Watch the Hunt 44 Video Boat Review
Overview: An express cruiser designed to appeal to the cruising couple with both luxury and performance in mind.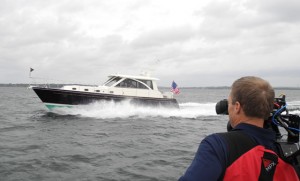 Concept
-Use the traditional flush-deck design to provide a single level cockpit, salon, and helm, with a great deal of attention paid to interior décor and a roomy layout.
Construction
-Fiberglass hull, deck, and superstructure built with resin-infusion technology.
-Heavy-duty stainless-steel hardware and fittings.
-Emphasis placed on high strength to weight ratio in the hull.
-Marble countertops.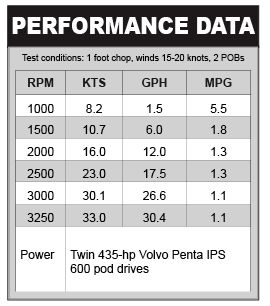 Performance
-Cruises in the upper 20's and hits 33 knots at top end.
-Extremely good rough-water handling abilities. We cruised into a two to three foot head-sea chop at WOT, and the boat smoothly sliced through the seas.
-Efficiency at cruise is above average, for a boat of this size.
Handling
-Pod drive powerplants provide excellent dockside maneuverability.
-The addition of an aft cockpit control joystick allows for close-quarters maneuvering from the outside of the boat.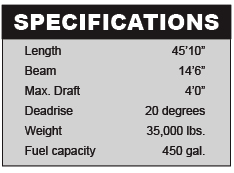 Features
-Master and guest staterooms are roomier than expected.
-Master head is surprisingly large, with plenty of room for the separate stall shower.
-Interior fabrics are luxurious and rugged.
-Sunroof and windows open at the press of a button, and feature sunshades.
-Garage is large enough to handle a serious tender.
For more information, visit Hunt Yachts
Tags: Boat Test Notes, Hunt 44, Hunt Yachts, Lenny Rudow, Video, video boat review