Powercats have some advantages over traditional monohulls, though they also have some unusual disadvantages – but Carolina Cat's new 23CC has found a few ways to pull ahead of the pack. This is one of the manufacturers owned by The Powercat Group, the world's largest powercat builder, which includes such iconic twin-hull nameplates as Glacier Bay, World Cat, and Livingston. In other words, there's no shortage of cat-creating experience at Carolina Cat. And a look at the 23CC will prove it.
First, simply consider the size of this boat, the power it requires, and the performance it gets. At 22'7" long and 8'6" wide, you can enjoy expansive deck space and the soft ride which a monohull would need several additional feet of LOA to match, and you get it with a pair of twin F115 Yamahas on the back. Look at that larger monohull, and you'll find that you need another 150 horses or so to match the 23CC's performance. Top end speeds break 45 MPH, and when cruising at 3500 RPM, this boat does 26.6 MPH while getting 3.4 miles to the gallon. Yes, you read that right – 3.4 MPG. The larger but otherwise comparable monohull simply won't be able to match that, or even come close.
Another direct benefit of the cat design is this boat's seating. Since cats carry their beam all the way from bow to stern (that's why this 22'7" boat has as much deck space as some 26' monohulls and why the Carolina Cat 18CC seems to have as much room as most 20' boats), there's plenty of width up front to build in large seats. And that U-shaped foredeck isn't the only place seats are integrated into the design; the 23CC also has fold-up jump seats aft and a forward console seat, as well as the leaning post at the helm. Added bonus: the forward seating does double-duty as a pair of 150-quart, insulated, integrated, overboard-draining fishboxes.
So, why would anyone opt for a monohull with a boat like the 230CC on the water? Let's be real; there are some flaws in waterborne felines. The most noticeable in this case is the lack of a belly due to the absence of a V-hull, which makes space inside the console extremely limited. In fact, there's not enough room for a head compartment; instead, a portable MSD slides out from the console.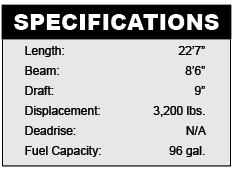 Although this boat could certainly serve as a runabout, the vast majority of folks considering it will be anglers. Thanks to its relatively small size, low draft, and low operating costs along with the rough-water capabilities cats deliver, the 230CC can serve as a multi-species predator of the bay one day and head for offshore waters the next. So it's a good thing Carolina Cat gave it some claws: a 30-gallon lighted livewell, four gunwale-mounted rodholders, a raw water washdown, and an electronics flat at the helm that can take a 12" display.
How do they cram so much in? Again, remember the pack that this cat prowls with; the design comes from tons of experience building twin-hulled boats—and one look at the 23CC confirms it.
For more information, visit Carolina Cat Boats.
Tags: Carolina Cat 23CC, catamaran, center console powercat, Lenny Rudow, power cats, powercat group