Think of this column as one friend recommending a good bowrider to another friend. If a particular boat isn't something that will hold up over seasons of use — or even abuse — you wouldn't find it here. In truth, anyone could recommend a bevy of Cobalts or Sea Rays or Regals and be safe. But there are other smaller builders that put out some really fine products. One such company, and probably one many people are not familiar with, is Bryant Boats.
Located in Sweetwater, Tenn., Bryant builds a lineup of 12 runabouts and one deck boat, from 19 to 26 feet. They are the quintessential runabouts, and because of the way they're built, they tend to last a lot longer than the payments.
Part of the reason is that Bryant is a low-volume builder, owned by the Bryant family for more than 45 years. It's a tight-knit operation, with all manufacturing under one roof, and each boat takes 14 days to build. Another reason Bryants tend to last longer and retain their value better is that they are 100-percent wood free. The stringer system is made from hand-laminated molded fiberglass, the transom features sandwiched composite construction, and the floor is one piece. What's more, the decking comes with a lifetime warranty.
A mainstay in its lineup, the Bryant 210 can be fitted with engines from a 3.0-liter four cylinder to a 5.7 liter V8. Base price with the MerCruiser four cylinder is $41,809. You can get a 220-horsepower V6 for $47,453, or a 260-horse 5.0-liter V8 and keep the price tag under $50k. There are more powerful engine options available if you're so inclined.
Inside, the 210 has everything you need in a runabout. Up front, the bow area features two cleats and an anchor locker with a latched door and a notch so you can anchor up to the lake bottom with the door closed. Seat cushions are thickly padded, and back rests are gently angled for comfort. Bow passengers also get two speakers, grab handles and cupholders.
The helm setup is simple and elegant, with a tilt wheel, privately labeled VDO gauges, a compass, and lighted rocker switches set in a brushed metal-finish panels. No tacky faux woodgrain here. Buyers also can opt for the adjustable pedestal seat, which lets the driver set the height to his or her preference. It's great for taller drivers who always seem to get blasted in the forehead with the wind rushing over the windshield.
Because the 210 is so well equipped in standard trim, there aren't many options. In addition to engine and seating option mentioned above, buyers can get stainless docking lights, an automatic fire system, and a port-side stowage compartment. You also can opt for a bow filler cushion, a pedestal dining table, a depthfinder, and an upgraded stereo system with 10-CD changer with a 10-inch subwoofer. Watersports enthusiasts can choose a wakeboard package, which includes a folding towing tower with board racks.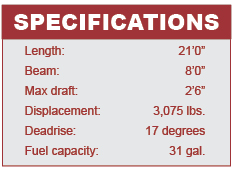 At the rear, the full-width sunpad features a rubber-matted walk-through to the swim platform, which also is covered with rubber mats. The platform has a locker on the port side and a swim ladder in its own compartment on the starboard side. The cool part is that the cushion covering the walk-through flips up and locks in place, to create a headrest.
There is a lot more that goes into making the Bryant 210 as good as it is, and all a buyer needs to do to see it is step on board and begin nosing around. If you do, there's a good chance you'll move it up on your shopping list, from dark horse to front runner.
For more information, visit Bryant Boats.
Tags: bow rider, bowrider, Brett Becker, Bryant 210, Crownline, Regal, Sea Ray