Read Lenny's Smoker Craft 162 Pro Angler XL Boat Test Notes
Video Boat Review Transcript
Review a bunch of sixteen to eighteen foot boats, and after awhile they all start to bleed together. One that doesn't? Smoker Craft's Pro Angler XL. Why? Well it has a lot of features and construction techniques that are really interesting. Come on back to the dock, and let's check 'em out.
Features
This is a nice roomy foredeck. And it's interesting how they laid it out. Course you have your anchor locker up here, you have your trolling motor plug right here, and this stowage compartment under here goes all the way across. It's one big open area, with a mount for a trolling motor battery and your electrical wires already in place.
Now I love this slick gauge cluster, that's nice. And there's room to binnacle mount some electronics right here. One thing I'm not so crazy about is where the safety lanyard is located. You have to pull it back across the throttle to hitch it up, and it kinda gets in the way there.
I don't care who you are, one thing you're gonna love about this boat: check out these comfy seats! These are nice.
There's a storage box built into the gunnel here, you can use that for your rods. And it is locking. And this boat also has a pair of gunnel mount rod holders in the stern.
There's a nice large live well in the foredeck. And it's insulated all around the outside. Plus there's foam in the top, so even the top's insulated.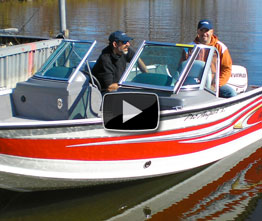 Construction
You know, one of the things that really struck me when I was testing this boat is how well it handles. You can throw it into turns, it banks great, it holds the water, you don't have to back off on the throttle. What is going on?
Greg Yarborough, Smoker Craft Boats: There's a couple things going on there, first off we have our hydrolift hull design, which allows the boat to get up on plane quicker with less horsepower, providing a very smooth and dry ride. In addition to that, we have our five keel construction, and what that does, it allows you to have a nice clean banking turn, and do it efficiently and smoothly on the water.
You spend a lot of money on a new boat, you want to make sure it's backed up. How does Smoker Craft back their boats up?
Greg: New for this year we have an industry-leading lifetime warranty on the hull, lifetime warranty on the flooring, and a six year stem to stern warranty.
Performance
Now we're doing a thousand RPM, that's getting us about 3.25 mph, but we're only burning a tenth of a gallon per hour. What's going on here?
Bill Clauser, Evinrude Outboards: All E-Tech engines use what we call stratified combustion at the low speeds. As soon as we start putting a little bit of fuel in the cylinder, the spark plug lights it off. Hence it doesn't take us a lot of fuel to get a powerstroke out of that cylinder.
All right, so we're cruising in the low 20s at 4500 RPM, topping out real close to 30 MPH. What's interesting is we never burned more than 3.5 GPH did we?
Bill: Nope.
Come on, let's nail it, have some fun.
Wrap Up
So many boats we review, they're just plain vanilla. Not the Smoker Craft. This boat? It's spicy. If you're interested in a fishing boat of this size, try one out with a 50 HP E-Tech on the back, see if you agree.
Tags: 162 Pro Angler XL, Lenny Rudow, Smoker Craft, Video, video boat review