Read Lenny's Beneteau Barracuda 9 Boat Test Notes
Transcript
Yeah, okay, I'm faking it. Believe me, I'd much rather be offshore right now, fighting fish like tunas and billfish. But, work before pleasure. Fortunately today part of that work includes reviewing the Beneteau Barracuda 9. Come on, check it out.
Now I hate those fake catalog and video fishing shots as much as you do, but I insisted on bringing a rod to start the review today, and here's why. I wanted to prove that this Barracuda gives you the 360 degree fishability of a center console. And at the same time, it gives you all the comfort and convenience of a full sized cabin.
Design and Features
Now the Barracuda 9 is available with or without this flybridge, but I'm telling you, you gotta get it. It's a lot more substantial than one would think; there's seating for two, a full set of controls, and running the boat from up here is just wonderful.
One of the ways Beneteau gained so much cockpit here is by pushing this transom all the way back. Now I know what you're thinking: tilt the motors up and they'll hit it, right? Ahah. The whole transom tilts up so then you can bring the motors all the way out of the water.
Now if you're a cruiser, you'll like this seat located here behind the cabin. But if you're an angler, you can opt instead to swap it out and have a rigging station here with a sink, cutting board, and stowage underneath.
Now down here in the cabin, this is where the design really shines for families and cruisers. Check it out: plenty of room cruising around, and then when you're ready for lunch on the hook, spin your seats around, pull your tables up, and you've got seating for four.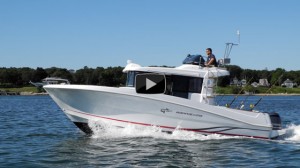 Beneteau used some nice seats down here. You just simply flip the bolster up, and you've got a leaning post.
You know I'd rather be up top running this boat, but if you've gotta come inside, you got foul weather, whatever reason you want to run the boat from down below, you've got plenty of room for nice electronics at the helm here, and I like the dark tint that Beneteau used. It really cuts down on the glare and keeps from burning your eyes out.
Down below you've got a nice big v-berth and a stand up head with a pull-out shower. Now while we're down here, I want to take note of one other thing. All day long I've been on this boat, and I haven't had to take one step without having a handhold somewhere close by. I really like that.
So Dave, this boat's got good fishability. But if it were mine, I'd want a live well and a fishbox. Now I see a spot for a livewell right here, and for a fishbox under the deck. But they're not here yet. So what can we do about that?
Dave Nolan, Cape Yachts:
Now Lenny, I know that Beneteau's working on those options right now.  In the meantime, any dealer can deal with both those items. Place a tub right down for the fishbox, even macerate it overboard. Even easier to plumb up a live bait well.
Performance and Handling
Now Maryline, we just took this boat for a run, and it ran really great. It hopped right up onto plane, it took the waves well, and I understand the hull is unique.
Maryline O'Shea, Beneteau Powerboats:
Right, the Barracuda 9 features the Airstep hull design, exclusive of Beneteau, which ducts the air through the hull and directs it under the transom creating an air cushion, which reduces drag and increases performance.
So just how well does this unique hull run? Well, we tested it with a maximum power on it, that's twin 225 HP outboards, and at a 4000 rpm cruise we got 35.7 mph. Fuel economy was pretty nice too: 1.6 mpg. And wide open, we ran right around 50 mph.
Wrap
All right, I'll quit faking. Cause you know what? At this point, it's obvious that Beneteau didn't fake it with the Barracuda. Whew! That was a fighter.
Tags: Barracuda 9, Beneteau, fishing, Lenny Rudow, powerboat, Video, video boat review