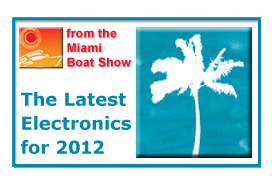 Anyone who has tried to outfit or refit a boat with marine electronics in the last few years has had the sensation of surfing the face of a tsunami. Marine-related or not, all electronics are advancing at breakneck speed in terms of technical sophistication, features, and connectivity. Hardly any piece of marine electronics these days is designed to stand alone, and many devices are now able to work with land-oriented gear like iPads and smart-phones. There's a lot of overlap, a lot of trade-speak, and  the typical boater is left with a bewildering, ever-changing range of choices when it comes to user-interface options, networking, proprietary systems, NMEA data-sharing protocols, plug-and-play instrument suites, and more. Never mind the cost.
But the world of electronics is almost universally enticing – maybe even addicting — and marine electronics in particular can, used properly, make a big difference in safety and enjoyment on the water. So, unless you want to go back to paper charts, parallel rules, dividers, and RDF, you're going to want to keep up. (If those items are unfamiliar to you, you'll probably be able to keep up even better.)
Electronics makers always descend on the Miami International Boat Show with the latest and greatest gizmos and gadgets, and the 2012 show was no different; in fact it was  a banner year, with the major manufacturers on the march with every bell and whistle.  Boats.com editors and writers filed stories during  the show. Here are a few of the things they found.
Marine Electronics: The Latest and Greatest
Lenny Rudow's top picks from the show, including touch screen navigation and AIS.
Furuno NavNet TZ Touch, Raymarine e12, and DeLorme inReach Hit Miami Boat Show
The quick skinny:
Furuno's NavNet TZ Touch, as the name implies, is a touch-screen multi-function display. It comes in two sizes – 9″ and 14″.  The big deal is that it features pinch-and-spread pan/zoom gestures like an iPhone, as well as two-finger course rotation and other very intuitive manipulations.
Raymarine's new e12 is an expanded version of the e7 we reported on last summer. Bigger screen, and more video in/out jacks.
The DeLorme inReach is a two-way satellite messaging device that can send texts, emails, or distress calls via the Iridium satellite system. It also works with an Android phone or iPhone.
Update:
Vesper Marine AIS WatchMate Wins Safety Award in Miami
Vesper Marine and Kannad Marine went head-to-head in the safety category of the Pittman Innovation Awards. Vesper took top honors with their WatchMate AIS. Kannad's SafeLink R10 SRS (Survivor Recovery System), a user-worn innovation with a cool AIS link, also won much praise. If there's one arm of marine electronics muscling its way into the hearts and minds of boaters these days, it's AIS.
While you're puzzling through the latest choices in electronics,  here are some articles from the Boats.com's recent archives that should be useful in helping you make decisions:
Tags: ActiveCaptain, Doug Logan, electronics, Furuno, Garmin, Lenny Rudow, Miami international boat show, Raymarine, Simrad