Read Jeff's Harris FloteBote Sunliner 200 Boat Test Notes
Video Boat Review Transcript
Triple-tube horsepower-packing models are getting a lot of attention in the pontoon boat industry at the moment. But there's still room for the basic two pontoon family party barge. Especially ones like this Harris FloteBote Sunliner 200. It features quality construction, a family-friendly layout, and enough horespower at the stern to pull the kids tubing; yet it promises to leave plenty of cash in the wallet to fill the tank each season. Now that's a boat everyone can celebrate.
Expert Interview
Don, the Sunliner is a value-oriented model, but it still incorporates the high-end construction techniques that Harris is known for.
Don Mason, Harris FloteBote: Yes we use the full 25 inch tubes on all of our pontoon boats. The Sunliner has the multi-chambered sealed tubes. We have the dolphin nose on our pontoons; it's a better riding tube. We have full-length M brackets inside and out, it's a Harris trademark. We use 24 inch on center M brackets to support the flooring and decking. We use a 3/4″ marine grade tongue in groove plywood; we're the only ones who use tongue in groove in the industry. We fasten all of our decks down with a TEK screw. It's a heavy duty TEK screw that basically welds itself into the cross member.
Features
Sunliner's been completely refreshed for 2012, and nowhere is that more evident than in the boat's profile. Rather than the boxy rails of old, it now features these swooping rails that add an upscale touch to the boat's perimeter.
Full embossed panels cover the furniture within, enhancing the clean looks.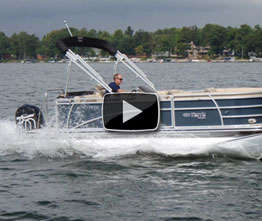 Inside, bow and cockpit loungers offer plenty of room for your crew to stretch out. Harris also takes advantage of every inch of available space, even going into the space behind these two seatbacks.
Feeling the need for some privacy? This changing room pops up from below this aft seat. Step out, and it conveniently folds away. You can also add an optional portapotty.
Cost-cutting measures are in effect, but they don't detract from the boat's overall quality. The front of these seat bases are left exposed. Higher end models would cover them in vinyl. Their construction, however, is rotomolded plastic. It's tough, durable, and creates a low-maintenance interior finish for stowage.
This fiberglass helm is a nice touch. Some value-priced models might just have rotomolded plastic, or maybe even a wooden helm covered in vinyl.
There are two options I like. One of which is this removable jumpseat. It can be moved to either gate opening to add seat space.
The other of which is a rear cargo net. It's a great place to stow your towables and water toys.
Performance
Lifting strakes help the Sunliner's twin tubes accelerate on a plane with little bow rise. Once up and running, handling is confident and predictable, with none of the severe outside list in the corners which characterizes some pontoons. While power delivery won't match higher horsepower models, it's enough for pulling a family's inflatables. With a Mercury 90HP outboard at the stern, my test boat peaked at 24 mph. Crunching the numbers, I found fuel consumption at that speed to be 9.6 gph. On those leisurely evening cruises, you'll burn a mere 1.5 gph.
Wrap Up
Harris sells a lot of the Sunliner, for good reason. It's got all of the quality construction details of their higher-end models, yet it's economical and easy to maintain. It's a great way to get your family out on the water.
Tags: Harris FloteBote, Jeff Hemmel, pontoon boat, Sunliner 200, Video, video boat review