Read Lenny's Starcraft Starfish 176 Boat Test Notes
Video Boat Review Transcript
There's only one thing I love more than fishing, and that's my family. Unfortunately I once watched one of my sons fall off the bow of a flush-deck boat. Fortunately he was okay, but if you're a family fisherman like me, you'll really appreciate the deep gunnels you find on the Starcraft Starfish 176.
Features
For a seventeen foot boat, this helm is Cadillac-comfortable. Check out all this legroom, I have this nice tall windshield protecting me, and don't forget these tall gunnels will give you and your kids some real security.
This rod box is downright impressive. There's room in here for 11 rigs.
The anchor locker is covered with vinyl; some might prefer a hatch there. And up in the foredeck here, we have a nice livewell on this side and storage space on this side.
Big water anglers, who are after walleye and salmon, they're going to love these wide gunnels cause you  have plenty of room to mount downriggers. You also have another livewell back here in the aft deck, and a battery box.
Performance
All right, let's gather some engine data here. Fortunately all these 2012 E-Tecs are NMEA compliant, aren't they?
Bill Clauser, Evinrude Outboards: That's correct. This particular model, you just pull this one plug off, remove the cap, plug in your wiring harness, and then this cable takes all your engine data up to any NMEA 2000 compliant instrumentation on the dash. You just suck up any overheats, engine temperature, fuel flow; anything off the engine computer gets put up on the screen.
You can even put that on a chartplotter if it's NMEA 200o compliant?
Bill: Correct, it'll all come up on the screen.
Now this motor takes 80 pounds off the transom, compared to an average four stroke. That's a lot of pork to take off a boat this size.  to lose. How does E-Tec do it?
Bill: Two stroke E-Tecs have fewer moving parts under the hood because we don't have valves, cam shafts, timing gears, all the things that are inherent to a four stroke motor, we don't have.
Running the Starcraft Starfish at 4500 RPM, we did 31.5 MPH while getting 5.6 MPG.  Back it off to the most efficient cruise of 3000 RPM, and we got 6.4 MPG while doing 18.1 MPH.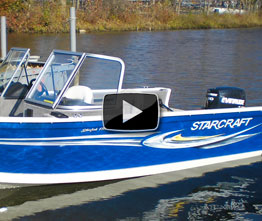 Construction
You know one of the things I noticed the last couple days running this boat? This deck is solid as a rock! Tell me about it.
Greg Yarborough, Starcraft Boats: Yeah our main floor and our carpeted decks, main floor vinyl, all fully treated plywood, so they're guaranteed for the life of the original owner.
You know, usually on a 17 foot boat you put in a pair of pedestal seats and everyone's bumping into each other.  But I got tons of room to spin around and watch my trolling lines. This is a wide boat.
Greg: This boat's laid out for the fisherman, definitely. 17'8″ LOA, plus we have a massive 92″ beam, 27″ cockpit depth so there's plenty of room to do your trolling applications, plenty of room to do your casting applications, whatever you choose.
So Greg, is there anything unique about the construction of this boat?
Greg: Yeah there really is. On the Starcraft fishing models, we have a hundred thousandths gauge hull, we've got eighty thousandths side gauge on our freeboard, plus we have a full length reverse chine which runs the full length of the boat. And we have a one-piece unitized hull, which is formed around machined ribs. And then we have our torsion-beam construction. The benefit of that is, it allows the boat to flex when you're in big water conditions.
Wrap Up
After reviewing the Starcraft I'm sure of one thing. If you want to fish big water with your kids, this is the right kind of boat. And if you want to give 'em some thrills too, put that 90 horse E-Tec on the back, see what they think of this.
Tags: Lenny Rudow, Starcraft Starfish 176, Video, video boat review