Die-hard center-console fishboats like Grady-White's new 271 Canyon aren't built, they're bred. Like a champion hunting dog with a pedigree stretching a mile long, the 271 shows details and design tweaks that can only come from years of intentional evolution.
The leaning post is a perfect example. On a mutt of a center console, you'll find a post supported by aluminum legs, maybe with room for a cooler underneath. On a purebred there might be rocket launchers and a stowage compartment or two, as well. On the 271 Canyon, the post is integrated with a fishing station that includes four rocket launchers, a lighted 42-gallon livewell with a full-column inlet, a rigging station with a sink, knife/pliers/hook holders, locking bulk stowage, and tackle drawers. This kind of post doesn't just appear overnight—it takes a combination of on-the-water experience and enough humility to listen to customer feedback. Grady-White clearly has both of these traits in its gene pool.
Another example of fine breeding can be found in the console. Sure, there's a roomy fixed head with a 10-gallon holding tank and pump-out. Lots of builders do that. But check out the forward console seat. Where many builders mold in nothing more than stowage, Grady-White designed an insulated fishbox just shy of 400 quarts, with a gasketed hatch that rises on a pair of gas-assist struts, and a cushioned top that does double-duty as a seat—it's almost like a mini coffin-box.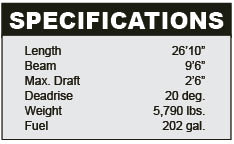 Of course, this intelligent breeding would add up to little more than inbreeding if the Canyon 271 didn't have the seaworthiness to take on offshore waters. And although I haven't had the chance to run the 271 through whitecaps and salt spray just yet, there's no doubt in my mind that this boat will be able to handle the job. Its hull is the very same SeaVee2 variable-degree deadrise that all modern Grady-Whites ride on—and past boat tests have proven that this Ray Hunt design is nothing short of a champion pedigree.
Comparison shoppers may also want to look at the Edgewater 268 CC, Pursuit C250, and Triton 261 CC.
For more information, visit Grady-White.

Lenny Rudow has been a writer and editor in the marine field for over two decades and has authored five books. He runs his own web site at HookedOnFishingBoats.com and writes weekly for Boats.com reviewing new models and covering marine electronics.
Tags: centre console, fishing, Grady-White 271 Canyon, Lenny Rudow