The new Skeeter ZX20 Bay is one of six models in an updated line of saltwater fishing boats the company will offer for 2012 as it pushes to expand its market beyond the Texas and Louisiana coastal region. Best-known for its premium fiberglass bass and multi-species boats, Skeeter has offered center-console bay/flats fishing models since 1992, but distribution was limited to the west Gulf area to stay off the Florida turf of Century Boats which, like Skeeter, was owned by Yamaha. The Century operation in Panama City, Florida, was closed in December, 2009.
"Skeeter has never been in Florida in the past, but now it will be replacing Century in that area," says Joe Mercurio, sales and marketing manager at Skeeter. "We'll have 15 dealers in the state by early 2012, and are also setting up dealers up the Georgia and Carolina coasts."
Mercurio explained that Skeeter felt it needed to upgrade its entire saltwater model line, which ranges from 20 to 24 feet, for use in Florida waters, where it expects to compete with the Ranger, Pathfinder, and Scout brands. There's even a new website devoted just to Skeeter Saltwater.
"In Texas and Louisiana our boats saw some salt water, but were more often on brackish and fresh water in the delta bays," said Mercurio. "Now we expect these boats will see rougher conditions and more salt water."
Construction changes include a beefed-up laminate schedule in the hull and replacement of all wood with composite materials. All metal hardware is now stainless steel, aluminum, or bronze, all hull fittings are either stainless or bronze, and seacocks have been added to all through-hull fittings below the waterline. Livewells and baitwells are equipped with 800-gph recirculation and fill pumps, and the overflow rate has been increased.
All of these changes have been made to the ZX24V, ZX22V, and ZX2250, which are otherwise unchanged for 2012 with the exception of a new storage shelf in the console and a leaning post baitwell that's a no-cost option.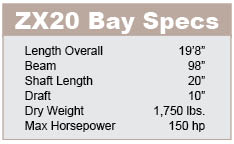 ZX20 Bay
This is the value model in the Skeeter Saltwater line, but the ZX20 Bay is still a premium-quality, center-console fishing boat. Measuring 19 feet 8 inches long over a beam of 8 feet 2 inches, this boat is big enough to handle some stiff chop, and the new lamination schedule is designed to make sure it can take the abuse. Skeeter has redesigned the interior, with new folding rear jump seats that cover dry storage. A 35-gallon livewell is now located in the center of the aft casting deck. The previous forward rod storage compartments have been removed, and open rod racks on the gunwales are now an option. A 42-gallon forward dry storage box replaces the previous 38-gallon box. Cockpit scupper capacity has also been enhanced. Other features include Yamaha analog instruments, a removable windshield, a flip/flop helm seat over a 94-quart cooler base, and a seating position on the front of the console. The boat also includes eight console rod holders, an eight-inch outboard set-back plate, and a Yamaha stainless steel prop.
Powered by a Yamaha F150 outboard, the ZX20 Bay tops out at 52.1 mph, according to a Yamaha Performance Bulletin, with the generous 45-gallon fuel tank full. The boat is also offered with a Yamaha F115 outboard, which will push to the boat to about 47 mph, according to Mercurio, who adds that the boat pops onto plane better with the F150, but still runs well with the F115.
The ZX20 Bay will be priced in the low $30,000 range with the F150 outboard and some typical options. A base boat with the F115 will be priced in the high $20,000 range. In either case an aluminum single-axle EZLoader trailer with galvanized wheels is part of the package.
ZX22 Bay/Bay-T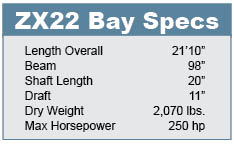 Not all-new but significantly revised, the 21-foot 10-inch ZX22 Bay is available with a standard V hull that draws 11 inches, or on the Bay-T variant a tunnel hull for prowling the flats with the motor jacked up. Both models mount a Yamaha outboard on an 8-inch setback hydraulic jack plate. The boat can be rigged with up to 250 horsepower. Changes to the 2012 model include a new 40-gallon rear livewell and drop-in boxes for the rear storage compartments. The lips around all storage box openings are a half-inch taller (to two inches) so they drain more effectively. Specific storage for a cast net has been added in front of the console with room for a three-gallon bucket. Stainless door and hatch latches have been replaced with rubber tension latches that hold up in salt water. The ZX22 Bay will fly along at just under 60 mph when powered by a Yamaha Vmax SHO 250 motor, according to a Yamaha Performance Bulletin.  This boat comes with a tandem-axle trailer.
For more information, visit Skeeter Saltwater.
Tags: Charles Plueddeman, Saltwater, Skeeter, ZX20 Bay