Read Lenny's Bayliner 235 BR Boat Test Notes
Video Boat Review Transcript
If you have kids, you have a reason to go swimming, wakeboarding, and waterskiing. Try to find a kid that doesn't like that stuff—they don't exist. Now one boat you're probably going to run across when you're shopping is the 235 BR from Bayliner, so we gave it a thorough review to find out if it's the right boat for you.
Performance
Now with the 5 liter Merc, this boat rocks. We cruised at around 45 mph and check this out—top end, 54.5 mph. Yet throughout the powerband, we saw really good efficiencies. And even at top end we were getting about 3 mpg. But when you're really ready to have fun, put a skier or a wakeboarder back there, and check out the hole shot.
Features and Construction
A boat like this, the main entertainment center is back here. Check this out. You've got a huge swim platform area, with a stereo remote right back here, waterproof, so you don't even have to come all the way out of the water to change the stereo. You have two speakers back here, and on top of that, there's even a cooler right inside the swim platform.
There's a ton of comfy seating back here, and there's storage underneath. Plus there's a large stowage box right in the deck. Now it's unlinered, that means you get some extra space, has a gas assist strut on the hatch, and beefy hinges.
Now you may think this door right here and this windshield close up for weather protection. What I'm saying is, put the kids up there, shut this down, now it's time to party!
Now if you have sun worshippers in the family, don't worry. Filler cushions fit into all these areas, turns into one big sunpad. You want to take note of the marine vinyl that Bayliner uses here. Vinyl's often one of the first things to go on a boat, gets beaten on by the sun, you want to make sure you have a good marine grade.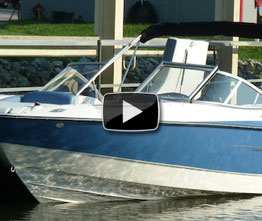 Now check this out. Engine access is awesome. These gull wing doors open, I can climb in here, or I can bring the whole thing open.
Builder Interview
We have Matt Guilford here from Bayliner Boats with us today and Matt, I got a question for you. Look, this boat blasts past 50 mph, it comes well equipped, and yet it goes for around $40,000. It costs a lot less than most competing boats. How the heck is that possible?
Matt: You know Bayliner's been delivering value for more than 50 years. We're currently the best selling brand in boating. The 235 is the flagship of a 9 boat runabout lineup. That volume really helps us build a lot of value into the boats.
Matt, one of the things I've got to ask you about is these cupholders. Even with the center filler cushions in here, you can still get to the cupholders. Who thought of that?
Matt: You know our design team is really something. There's a lot of thoughtful features. The cupholders, the grabrail built into the profile of the boat. There's even easily accessible dry storage. It's perfect for purses or towels.
Wrap Up
If you 're shopping for a watersport boat in this size range, there's a good chance the 235 BR is gonna be one you'll want to look at. But I have one piece of advice for you—leave the kids at home, unless you want to hear "Please Daddy, Please Daddy, can we get it, please please, please Daddy, can we can we?"
Tags: 235 BR, Bayliner, bow rider, Lenny Rudow, runabout, Video, video boat review