Read Charles' Crestliner 1850 Sport Fish Boat Test Notes
Family fishing boat: does that sound like an oxymoron? Crestliner doesn't think so. This 1850 Sport Fish is designed to keep big water anglers safe and secure, but it's also got some features that make it a great family fun boat. So you can drag bait all morning, and drag those screaming kids around in the tubes all afternoon, and never feel like you've made a compromise. One boat, one happy family. Let's see how it works.
Performance
The Verado 150 on this boat delivers a nice combination of performance and economy. We got 6.2 mpg at 25 mph, that's a nice fast cruising speed, and a top speed of 47 mph. This motor's got some great mid-range punch, it really makes the boat fun to drive.
Expert Interview
Steve, this is pretty comfortable. It doesn't feel like we're sitting in a fishing boat. Who's the customer for this Crestliner Sport Fish line?
Steve Magers, Crestliner Boats: Well this boat is for the family fisherman. It's a very safe boat, deep freeboard, has a 17 degree deadrise hull for a smoother ride, but it has all the features of a great fishing boat.
Even a baitwell for my leeches.
Steve: Even a baitwell for your leeches.
Steve, to give it a better ride in rough water, the Sport Fish hull has seventeen degrees of deadrise. What exactly is deadrise?
Steve: Deadrise is the amount of angle at the transom in the hull.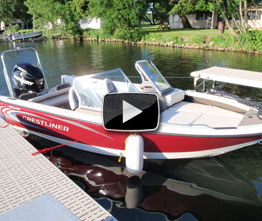 Features
Now this aft seat is a $1000 option, but it really adds a lot to this boat. When it's folded up it's a great perch for the family, but in just seconds, you can flip it down to get to your aft fishing platform. The back of the seat doubles the size of the platform back here.
We've got two seat positions, and a livewell.
So the forward seating position is also convertible. Right now we're in bowrider mode, so I can relax here. I've got a nice grabrail. When it's time to fish, you simply flip the seats down and we've got our platform. You've got dry storage here, and a locker for the trolling motor batteries up here.
So then it's easy to just drop in a pedestal and put another seat up here in the bow for fishing.
Another advantage of this boat's deep hull is it creates a really big storage compartment here in the center of the boat. It's more than seven feet long, big enough to hold a wakeboard, you can put your mooring cover in here or other bulky gear. There's also optional rod tubes you can buy to convert this into rod storage.
You've got a rod locker here in the port gunnel. And under the front console is this really slick slide out drawer.
So whether you're fishing or out with the family, 26 inches of cockpit depth is a nice feature. Both for comfort in big water, and security if you've got kids onboard.
Wrap Up
This Sport Fish is like a Northwoods Cadillac. It's big and comfortable, and with this supercharged Verado on the transom, it's a lot of fun to drive. The fit and finish is also really great. Look at these extruded aluminum gunnels they use. From a few feet away, it's hard to tell this boat's not a fiberglass runabout. But unlike so many fiberglass runabouts with a fish and ski package, this is truly a capable fishing boat.
Tags: 1850 Sport Fish, aluminum fishing boats, Charles Plueddeman, Crestliner, family fun, fishing, Video, video boat review