Read Lenny's Bayliner Discovery 266 Boat Test Notes
Video Boat Review Transcript
You don't like getting salt spray in your face? You don't want all your fancy electronics and cameras to get all wet? I know that guy doesn't want his camera getting wet. Well guess what? It's a good thing we're reviewing the Discovery 266 today, because this boat has a full enclosure. Forget about canvas curtains, they let water through. If you really want to stay dry, want to extend your boating season into the winter, this is the kind of boat you need.
Design and Features
When you look at the Bayliner 266 Discovery in profile, it's obvious what they're going for in this boat. They're maximizing cabin space, and minimizing the cockpit. But you still get a very fishable cockpit. It has a nice convertible bench seat in the back, a raw water washdown, stowage underneath the aft-facing seats, and behind them as well.
The helm is very comfortable, and it has a nice electronics flat with space right here for your fishfinder, GPS. Only problem is access is sort of tough; you have to take off these panels to get in behind there.
Now that cockpit is shrunk down; let's say it's equal to that of a 22 or a 24 footer. But check it out, but in exchange you get all this cabin space. This cabin is more like what you find on a 28 or 30 footer. There's a fully enclosed head, and a large midcabin berth. The galley is again extensive; this is more than you normally get on a boat of this size. You've got a microwave oven, a one burner stove, a sink, and a refrigerator.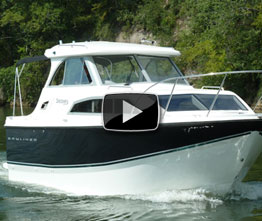 There's a nice big v berth and of course this dinette folds down into another berth. Really there's everything you need here for a genuine pocket cruiser.
Performance
Now as you might expect, this boat is a little slow to get on a plane. But with a 5.0 Mercruiser inside of it, once you get up and running the boat has plenty of pep. In fact cruising speed is close to 30 mph, and top end is close to 40.
Now this boat is on the tall side, and it has high gunnels. So the center of gravity is a little bit on the high side. And you can see it is maybe a little bit tender. But when you're inside the cockpit with these tall gunnels, it gives you a real feeling of safety.
Builder Interview with Matt Guilford
Let's talk a little bit about construction. Tell me something about these stringers.
Matt: All Bayliner cruisers use fiberglass encapsulated stringers. It's the ideal blend of weight, strength, and vibration absorption.
Now I also noticed there's a really big fuel tank in this boat. What's up with that?
Matt: The Bayliner Discovery series is about giving boaters the chance to explore on the water. With a fuel-efficient engine and the large fuel tank, they can explore further on the 266, with a range of about 175 miles.
175? Wow.
Wrap Up
The Discovery 266 is one of those few boats we can sum up with just a few words. If you're looking for a boat that offers you full weather protection, and a maximum size cabin for the LOA, yet still has a cockpit you can fish from, well that's just what you're looking at.
Tags: Bayliner, Discovery 266, Lenny Rudow, video boat review