John and Jean Swedberg know a little about boats. He grew up at his father's Staten Island, N.Y., marina, fishing and boating on Great Kills Harbor and Raritan Bay. "I started out with a little boat with an outboard," says Swedberg, 69, who ran the family marina before retiring five years ago. "And I've been into it all my life."
Jean Swedberg, 66, a retired college administrator, recalls visiting grandparents on the New Jersey shore as a youngster, crabbing, fishing, learning about boats. Together, they've owned a fleet of mostly fishing boats over the years, always buying used, always getting a lot out of what they bought. "There's nothing wrong with buying a used boat," Jean says. "You get a broken-in boat that you know, at a good price."
Looking at retirement a few years ago got the couple looking for yet another boat, one that could handle some serious striper fishing, along with the wind and waves of greater New York Harbor and beyond. "This is a great area for fishing, and trolling for stripers is our favorite thing," says John. "There's Great Kills Harbor and the bay, and some good fishing off Sandy Hook, too."
But they also wanted an overnight cruising component in their projected "retirement" boat. "It's so easy to get from Staten Island to the Jersey Shore, up the Hudson and out to the [Long Island] Sound," says John. "And we wanted to be able to just ride around New York Harbor, too."
There was one more parameter: classic lines. "I had an uncle who used to take me to the boatyards, and we'd look at the classic old wooden boats," says Jean. "I love that look."
The Swedbergs found it all in the Wilbur 34 Downeaster, a Maine-built soft-top express they bought in June 2006. Built in 1994, the boat was in impeccable shape, the price around $200,000. "I knew I wanted a Maine boat," says John. "I remembered Wilbur; I knew about them. They're seaworthy, and I thought they'd be perfect for our plans."
He contacted the builder, got some leads, and started looking around Southern New England. They got as far as Newport, R.I. "We saw this one at the dock, and it was love at first sight," says Jean. "It was just a beautiful boat. And, you know, I still feel that way."
The Wilbur was "exceptional, top-notch," says John. "We bought it from the second owner, and there were just 900 hours on the engine," he says. "The varnish work had all been taken down and re-done. There was nothing at all wrong with the boat."
A single 3116 Caterpillar diesel provides the power. The 350-hp engine tops out at 2,800 rpm, for a top speed of around 20 knots. Cruising at a comfortable 2,400 rpm delivers an "honest 16 to 17 knots," says John. "That's good for what we do. It's plenty fast enough. We've been in some lumpy weather, and it rides very nice."
The open cockpit has plenty of room for fishing, and there's a comfortable area under the soft top for relaxing or running the boat. The cabin is laid out with a V-berth, an enclosed head with a shower, and a galley with simple cruising amenities. "It's very comfortable to be on," says Jean. "When we first bought it, we were in between homes for a month, and we lived on this boat. It proved itself. It's good for living on —comfortable on deck, convenient below."
And when they're not out fishing for the day, they've done the cruising they'd planned on — from Staten Island up to Kingston, N.Y., on the Hudson, and out to Long Island Sound. One memorable day saw them accompanying the aircraft carrier Intrepid from Staten Island to its berth on Manhattan's west side. "That was a grand day," says Jean.
And while the vintage carrier got the most attention, the little Wilbur turns a few heads, too.
"There aren't many Down East boats in the New York and New Jersey area," says John. "So it stands out a bit."
WALKTHROUGH
The single-diesel Wilbur 34 shows the distinctive lines of a Maine powerboat in its graceful semidisplacement hull with tall bow and flowing sheer. Teak trim (handrails, moldings and accents) adds to the traditional look, yet construction is modern, with an all-fiberglass hull and end-grain balsa coring for the superstructure.
The Downeast model has a three-panel "lobster yacht" windshield with long side wings that protect the starboard helm station and companion seat to port. The cockpit is long and wide, offering plenty of room for fishing or entertaining.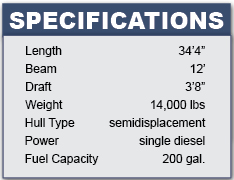 Accommodations below are complete for a cruising couple. There's a standard V-berth forward, with hanging storage and drawers under the berth. The enclosed head compartment has a marine head and a separate shower stall. A compact galley has room for an LP stove/oven, an undercounter refrigerator, and plenty of shelf and drawer storage. Other interior touches include a teak-and-holly cabin sole, paneled doors, a Bomar ventilating hatch, and 12-volt lighting throughout. Options include a generator and air conditioning, windlass and a bow thruster. Exact layout and choice of woods is up to the owner.
You can find the Wilbur 34 from coast to coast, and prices run from around $200,000 and up. There was a 1988 flybridge model selling in southern Florida for $215,000. A 1992 Weekender model in top condition was for sale by the original owner in Washington for $199,000. In Maine, a 1988 Flybridge Cruiser with a Volvo diesel and two cabins (to sleep four) was selling for $215,000.

Steve Knauth is a contributing writer for Soundings Magazine. This article originally appeared in the August 2009 issue.
Tags: soft-top express, used boat review, Wilbur 34 Downeaster, Wilbur Yachts