The adage in sales is, "Nothing sells like new," which is why you'll always find a parade of new products coming available in any market you care to name. Cars, appliances, electronics, video games, computers – all of the players in those industries need a steady stream of new product to attract customers.
Tow boats are no different, and you can always count on something innovative and new from the premium builders. The rub occurs when you are struck with lust at the company's latest offerings only to learn they are out of your price range. But you don't want to wait to buy one used – you don't want used. Maybe you may have owned nothing but used boats, and you feel it's time you had something new. Brand. Spanking. New.
So here's a little secret. Manufacturers always stock their boat-show floor space with their latest models, which they are happy to sell to you. However, if you dig a bit deeper in their catalogs, you can find models that have been in their lineups for a while, but still feature the same build quality and value retention that comes with buying a new boat from a premium builder—and they are just as happy to sell you one of those, too.
Take MasterCraft's X-7 for example. The EVO hull design has been around since the late 1990s, which may seem like a long time ago, but it still is the only hull design ever approved for all five competitive events: slalom, trick, jumping, barefooting and wakeboarding. The X-7 also shares a hull with its stable mate, the ProStar 197, which means the hull works well enough to please the most demanding slalom jocks.
"The guy who buys the X-7 is a dedicated skier," said Parker Stair, MasterCraft's director of sales. "But he wants to get something he can broaden the use of without sacrificing the best slalom wake in the world. These guys are serious about slalom skiing, but they also want to bring their kids along, who may prefer wakeboarding or tubing."
The X-7 works as well as it does for wakeboarding largely because of the hull design – and that it comes standard with a tower, rotating board racks and a ballast system that holds 500 pounds of water.
Also, the standard engine is plenty powerful. Indmar's 5.7 liter RTP1 engine delivers 310 horsepower through a multiport fuel injection system. On paper, 310 horsepower isn't much, but it's important to note that the X-7 weighs just 3,070 pounds, so that kind of power moves the boat along just fine. As the old engineering maxim goes, low mass is its own reward.
So, with no options and just enough equipment to take on any water sport you're into, the X-7 is beginning to seem like a bargain, but how much is it? MSRP is $58,200, downright reasonable by towboat standards. Add a custom single-axle for $5,630 and you can call every lake your own.
Because the boat was designed probably a decade ago, it has old-school dimensions, which can be a plus or a minus depending on your perspective. On the plus side, the boat can fit in your garage, because with the platform removed it measures just 20 feet 7 inches on a trailer with a swing-away tongue.
If you could call it a negative, the boat is rated to hold just seven people and its stowage capacity is less than, say, 20-plus-foot V drives. But that really isn't the point. The point is getting a top-shelf product at a reasonable price, and the X-7 does just that.
It still has the customary stowage compartment beneath the observer seat and a "trunk" at the back—with nice, side-opening lids supported by gas struts—which offers up 16 cubic feet of space. It's large enough to accommodate a couple of skis, tow ropes and PFDs. There is no stowage beneath the rear seat, but only because the cushion lifts off and can be stacked on top of the rear seat grab rails to form a large, full-width sun pad. Pretty neat setup, actually.
The bow also is done well, with grab rails and fully cushioned gunwale padding and cupholders for two. It's here you notice that the deck and sole is molded as one piece, which not only creates a more solid boat, but also makes hosing it out even easier.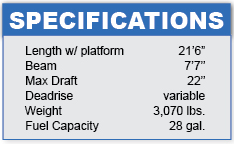 At the helm, the dash is simple and straightforward, and as boring as that might sound, it's actually quite refreshing. No humongous liquid crystal displays that require an instruction manual to understand. No bulbous padded binnacles with French stitching. Just a simple array of analog gauges laid out legibly and logically in a machined billet appliqué. Nice.
True, the X-7 has been in MasterCraft's lineup for a while now, and that's a good thing. It provides a great way to get into a premium builder's boat, without having to pay a small fortune or having to buy used. You could tell your friends it was a bargain, but you might want to keep it to yourself.
For more information, visit the Mastercraft website.
Tags: Mastercraft X-7, Tow boat