The miserable economy we've been enduring over the last year or so has had some profound effects on the American consumer, and the markets that serve them. The unbridled spending, easy credit and conspicuous consumption that marked the later years of the last decade have given way to an economy that's a bit more austere.
The Four Seasons at Maui is out. Stay-cations are in. Enormous motor homes are out of fashion. Little Guy campers are in. Eighty-thousand dollar runabouts are a tough sell these days, but Rinker's new 186 Captiva BR is right on for today's market. When the market improves and pricey runabouts begin moving off showroom floors again, it will still be a great way to attract new boaters to the market, for a few reasons.
One, Rinker has been building boats for decades in its Syracuse, Indiana, manufacturing plant. The company builds runabouts and cruisers, deckboats and small cuddy cabins. Rinker might not be the first name you think of when you consider a new boat, but buyers should know that Rinker is not new to the boat business.
Two, the 186 Captiva BR is a solid offering, particularly for the entry level market, which is price sensitive. Knowing that, Rinker kept the base price to a reasonable $18,795, which includes a single-axle trailer. You can even delete the trailer and get a 186 for $17,580.
Stock power is MerCruiser's reliable 135-horse four-cylinder engine. It's now equipped with fuel injection—and in truth, there really is nothing wrong with it—but it is a dreary little motor in terms of the excitement it provides. Opt for MerCruiser 220 horsepower V6 or Volvo-Penta's similar power offering and the price bumps to $21,550, but consider it money well spent.
Because it is an entry level model, options are limited, but they are well thought out. For example, buyers can get a galvanized trailer for $155 more. Other trailer options include drum ($440) or disc brakes ($600), which are required in most states. The only other option is a stainless steel propeller, which is $515. A stainless prop is a good way to get the most performance out of your engine, but you might be able to find one cheaper in the aftermarket. Better to find out what stainless prop Rinker installs and see if you can get one cheaper from a dealer.
Three, and this is a subjective call, it's a great looking product—again, particularly for an entry-level model. Color choices are black, red and white. The black hullsides give it a more elegant air than most value-leading models.
Inside, you get just enough to get the job done, in an easy to maintain package. Bow seats feature plastic grab handles and two-piece seat cushions. No cupholders, but you do get a forward cleat. In the cockpit, driver and observer and outer rear passengers do get cupholders.
On the dash, and this is something I like very much, Rinker treated it not with tacky fake woodgrain, but an engine-turned plastic appliqué, and it looks pretty good. Gauges are simple and well placed and you get everything you need, which means, fuel level, oil pressure, water temp, amperage and trim level. Ski stowage under the sole is adequate, but there is no support strut for the hatch.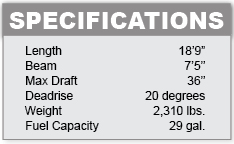 The swim platform comes fitted with its own stainless three-step telescoping ladder and a tow eye for pulling water toys. The sunpad atop the engine is generous for an 18-footer and there is plenty of stowage in the engine compartment.
In today's economic reality, many consumers are going to want a boat like this. And as markets and northern parts of the United States begin to thaw, it's highly likely that Rinker will have a hit on its hands. For more information, visit the Rinker website.