When you think express cruiser, you may envision a twin inboard production boat with a swollen cabin. You know it's a speedy vessel (hence the "express") with cruising capability of around 30 mph and a top speed of about 40 mph, but it'll likely do a bit of pounding in more than a 2-foot chop.
The windshield wraps around the bridge deck, with starboard-side sit-down helm and the companion seats. A Bimini or hardtop provides shelter, and see-through filler sections (that often wrinkle and yellow within months, decreasing visibility) can be snapped or zippered into place for more weather protection. Since it's also a "cruiser," the boat also has ample overnighting accommodations. But the berths, settees, galley and head are often crammed into a cabin that lacks natural light.
Things have changed. The half-dozen express cruisers here — five of the six are new models —offer refreshingly different design and styling elements. These developments help the boats better carry out their missions. Pod drives are replacing inboards and sterndrives on some models, giving these boats better fuel efficiency, increased interior room and joystick maneuverability. Volvo Penta's IPS powers the Chaparral 400 Premiere and Cruisers 470 Sports Coupe, while the Zeus system (Cummins MerCruiser Diesel) provides the punch for the Sabre 42 Express.
Now how about smoothing out that ride. Some of today's express cruisers are built with the necessary deadrise forward to shoulder aside seas without sacrificing cabin space. Case in point is the Chaparral 400 Premiere, which has a relatively narrow forefoot for wave-slicing.  But the builder has increased interior space by designing sponson-shaped sections in the bow above the chines.
On deck
An express cruiser's deck layout shouldn't isolate the helmsman, says Bentley Collins, vice president of marketing and sales for Sabre Yachts, of South Casco, Maine, which is represented here by the Sabre 42 Express. "There's a social connection from the helm to the cockpit," says Collins. "Everyone is together. That, to me, is the epitome of the express boat."
Collins compares Sabre's express boats to its sedan models. The sedan's saloon area, including the galley, is on deck, and the "house" is closed, separating it from the cockpit. On an express, the saloon is below in the cabin, and the house opens to the cockpit.
In this group, the Maine-built Ellis Patriot 36 —specifically the one owned by singer/songwriterBilly Joel — does a very good job of promoting social interaction. Like some Carolina fishing boats, the Down Easter's helm console is on centerline on the bridge deck, with ample bench seating on both sides. "It's good for passengers, it's good for fishing, and it makes sense," Joel says of the layout (see November 2008 Soundings).
You'll notice that these express cruisers have been built with large front and side windshields to maximize visibility for both the helmsman and passengers. And say goodbye to those frustrating windshield filler sections. All of the boats in this roundup have windshields that extend to the hardtop, and vents have been cleverly designed into the windshield to keep the bridge deck area cool. Also, builders are increasing natural light below deck, incorporating large windows into the hull sides to illuminate saloons and staterooms. Again the Chaparral stands out, with its long horizontal windows that bring light to the galley and dinette area. On the Cruisers 470, the aft stateroom and saloon each benefit from six windows — three on each hull side.
Fishing boats
The new high-horsepower outboards, such as the Yamaha F350 and Mercury Verado 300, have helped expand the express fishing boat market. These 4-strokes — and let's not forget Evinrude's E-TEC 2-strokes — give the boats the improved speed and fuel economy needed for long offshore trips.
With these big outboards, center console fishing boats can journey farther, too, but they lack the express cruiser's accommodations and protection from the weather. That's why some center console builders have added express models to their fleets — for example, Ocean Master (336 Sport Cabin) and Everglades (320EX), both of which are outboard-powered. "They want a more all-around package," says Mark Hauptner, owner of West Palm Beach, Fla.-based Ocean Master Boats. "If they're going to go farther, they need more."
The Ocean Master also is available with a single diesel, which provides an impressive 2 mpg at 30mph. And standard power for the Ellis Patriot 36 is a 480-hp Yanmar — the only other single-diesel boat in this roundup — which should provide the same fuel consumption but at a speed of around 21 mph. This group also includes one boat offered with outboard power only, the Everglades 320EX, whose sweet spot is 37 mph.
Styling varies among express cruisers, and the six boats here represent three categories: fishing, NewEngland-style and production express cruisers. Ocean Master is a semicustom builder, and Ellis is a custom builder. The remainder can be considered production builders.
Everglades 320EX
Everglades joins a group of center console fishing-boat builders who've made the jump to express boats. In late 2008, the Edgewater, Fla., builder introduced two express boats: the 320EX and 350EX. The 320EX was first.
Powered by twin 350-hp Yamaha 4- strokes, the boat reaches a top speed of 51 mph, which makes it the fastest express in this lineup. At a cruise speed of 37 mph, the 320EX has a range of 274 miles. At trolling speeds, you'll be getting more than 2 mpg, according to Everglades.
Everglades designed the 320EX to operate in all weather conditions. Tempered glass is used for the front and side windshields, and the front windshield contains three sections that electrically open forward. "A standard built-in enclosure finishes off the back [of the bridge deck] and can be quickly installed to keep in the warmth or cooling necessary to enjoy whatever marine environment you may be in at any given time," says Everglades marketing director David Glenn. A 5 kW generator is standard, along with two separate air conditioning/heating systems for the cabin and helm deck, he says.
In the cockpit, twin transom seats fold away when it's time to fish. An 81-gallon fishbox and 43-gallon live well are housed in a large fiberglass module, and the builder includes toerails along the hull sides to give anglers added balance. Forward, you'll find tackle drawers to port and a sink and cutting board to starboard.
A raised wraparound settee on the bridge deck will accommodate three to four crewmembers. The gray helm console reduces windshield reflections to improve visibility. The A/C system plays no favorites, with nine vents across the width of the dash so everyone feels the cool air.
Venturing forward, you can grab the rails on the hardtop, which comes standard, along with a spot-light, spreader lights, speakers, nine rocket-launcher rod holders, and six more rod holders integrated into the hardtop underside.
Below, there's 6 feet, 4 inches of standing headroom in the main cabin, outfitted with an enclosed head with shower, a full galley with single-burner stove and combination microwave/coffeemaker, and a mid-cabin berth. Base price with the 350s is $369,231.
"The majority of the equipment on our boats is standard," says Glenn. "Our boats feature very few options to take some of the confusion out of the purchase."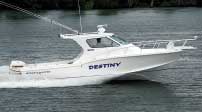 Ocean Master 336 Sport Cabin
Mark Hauptner started designing and building center consoles more than 30 years ago. During the last few years, some customers came looking for more protection from the weather, a stand-up head and the necessities for overnighting. In 2005, he started building a 31-foot express using the same hull that has been the foundation of his business: the Ocean Master 31 center console, launched in 1974 and the largest boat of its kind at that time.
Now Hauptner has introduced a 33-foot express cruiser. The boat comes in two versions: the 336 Express is designed with a hardtop and windshield that are separate components, while the 336 Sport Cabin has a pilothouse. Hauptner, who runs his semicustom boat-building business out of West Palm Beach, says he has sold two Sport Cabin models and one Express so far.
The chines rise progressively from the transom to the bow, providing stability, fuel efficiency and a level ride, says Hauptner, a former raceboat designer and driver. Hauptner vessels are heavily built, with solid glass bottoms and sides. Decks are cored with either pressure-treated plywood or closed-cell foam. Vinylester resin is used for protection against osmotic blistering.
The cockpit, bridge deck and cabin can be outfitted to the customer's liking. For instance, one of the Sport Cabin owners had a dinette table installed across from the starboard-side helm station, a location typically reserved for a companion seat. The boat can be ordered with a composite aft bulkhead with acrylic doors to completely enclose the bridgedeck area. The cockpit can remain bare, or it can be packed with seating. A tower is also an option.
The Sport Cabin's Spartan accommodations include a 7-by-8-foot V-berth forward, and there's room for a galley and a dining area. The head is contained under the V-berth, so if you want privacy you'll have to make sure the companionway door is closed. A separate standup head compartment is an option.
The 336 can be ordered with twin outboards or a single diesel. The latter gets an impressive 2 mpg at 30 mph. The first outboard-powered boat — an Ex-press with twin 250-hp Evinrude E-TECs — gets about 1.25 mpg at the same speed. The outboard-powered boat, which has a bracket for the engines, was designed for twins. Hauptner isn't a big believer in triples. "You have too much equipment and maintenance, and you burn more fuel," he says.
Pricing ranges from $254,000 with twin Evinrude E-TEC 250s to $314,000 with a 600-hp CMD diesel (straight shaft or outdrive and jackshaft). The company also offers 300- and 350-hp outboards.
Editor's Note: Part 2 of this article covers a boat originally built for Billy Joel and three other express cruisers.

Chris Landry is a staff writer for Soundings Magazine. This article (and part 2) originally appeared in the March 2009 issue.
Tags: Everglades 320EX, Everglades Boats, express cruiser, Fishing boats, Mark Hauptner, Ocean Master 336 Sport Cabin