Just because this is not your year for a new outboard doesn't mean it can't be your season for a better boat. Here are some affordable upgrades you can probably handle yourself.
Install a Remote Fuel Filter
A 10-micron remote fuel filter is your best protection against water-contaminated fuel and injector-clogging gunk, both symptoms related to the ethanol-blended fuel that is getting harder to avoid. All of the outboard manufacturers offer remote filter kits and the replacement filters, or you can order a Racor filter kit from West Marine. Prices for the kits start at about $90 and go up to $140 for larger filters. The replacement filter elements cost about $20 to $30, and you want to keep a spare on board. We went through the installation process in a previous Outboard Expert column.
Buy a Case of Fuel Additive
Today's gas can go "bad" faster than a gallon of milk. Outboard techs tell me that fuel stabilizer should be added to every tank of gas unless you know you are going to use it all within a week or two. After two weeks fuel may begin to oxidize, leaving behind clogging deposits throughout the fuel system. Older motors with carburetors are especially at risk to stale gas. I've had good luck using Sea Foam as a stabilizer and I know lots of people in the motorsports industry who swear by this product. I've seen a case of 12 16-oz. bottles for about $80. StaBil offers a marine-specific formula of its popular product in a gallon container for about $90. The outboard manufacturers all offer a fuel stabilizer under their brand name that is a quality product. I also really like Yamaha Ring Free, a fuel additive that is very effective at preventing the formation of carbon deposits in piston ring lands and the combustion chamber. It's spendy stuff – a 12-oz. bottle is about $20.00, a case of 12 quarts is $224.28 – but you only use an ounce for 10 gallons of gas. It replaces the carbon-fighting dispersant additives that were eliminated from gasoline over the past decade.
Have Your Propeller Tuned Up
Running a dinged-up prop can hurt performance, waste fuel, and lead to gearcase damage. A prop that is out of balance "wobbles" the propshaft just like an out-of-balance wheel vibrates the suspension of your car. This is bad for the shaft seals and bearings, and for the gear set. If you've hit soft ground, like a heavy mud or sand bottom, the blades can be slightly bent or deformed and not have any rough edges, and it's really hard to see with just an eyeball. This is especially common on aluminum props. A good propeller repair shop will check your prop on a pitch block, a steel form that mimics the original blade shape and angle. Aluminum blades that are amiss can be corrected with force applied by a very large hammer. Stainless props may require heat and the hammer. The shop will also repair any more obvious damage to the prop. In my area, prop shops work through dealers, and the cost for a complete tune-up is about half the price of a new aluminum prop, and only a third of the cost of a new stainless wheel, so about $60 to $180. It's a good investment.
Add a Fuel Flow Gauge
If you've got a boat with a newer outboard, it may have a fuel flow function built into a digital instrument array. If you don't have this dandy feature, it's pretty easy to add. We recently talked about the new Mercury ECO-Screen, a fuel flow monitor that coaches you into the best combination of throttle and trim for peak economy. ECO-Screen is priced at $426, and plugs right into the wiring harness of any Mercury outboard that's SmartCraft capable.
Yamaha offers a nice Fuel Management Gauge that plugs into its Command Link system and will display consumption in miles per gallon for a single or multiple motors. Its MSRP of $631 blows our budget, but you might find it cheaper on the street. OMC, Suzuki and Honda each offer a similar instrument.
Also slightly over budget and great for older motors is the Yamaha LCD fuel management kit (P/N 645 8350F.00, $582), which comes with a fuel flow sender you splice into the fuel line. I've been using this device when I test boats for years. Using a fuel flow meter, you'll likely find that your best fuel economy is between 3500 and 4500 rpm, and you'll note just a little more throttle causes the economy to drop off very quickly. It's a reminder to slow down, which will save you fuel and perhaps pay for the gauge in short order.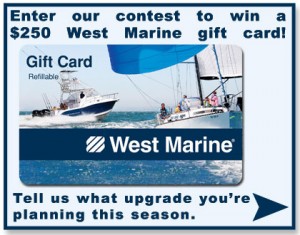 Editor's Note: This article is part of our affordable upgrades series. Tell us your upgrade story for this season and you'll be entered to win a $250 West Marine Gift Card.
Other upgrade stories:
Towboat Upgrades for (mostly) Under $500
Electronics Upgrades for Under $1000
Six great upgrades anyone can afford
Low cost upgrades for go fast boats
Playing the engine upgrade game

Editor's Note: Charles Plueddeman is Boats.com's outboard, trailer, and PWC expert. He is a former editor at Boating Magazine and contributor to many national publications since 1986.
Tags: affordable upgrades, fuel additive, fuel flow gauge, outboards, remote fuel filter