If you read Playing the Engine Upgrade Game, you know that adding power to your engine is a whole lot less expensive than buying a new high-performance boat. But you also know that at approximately $25,000 for the total power move I described in my story, upgrading your boat's engine is anything but "cheap."
That got the wheels in the head of John Burnham, my editor at Boats.com, turning a bit. A product of the sailing world (I know, I know, but he's a really nice guy so I'm willing to work for him), Burnham doesn't know much about go-fast boats. Which led him to call with the following question:
"Are there any low-cost upgrades for performance boats? I'd love to offer something to our readers as kind of a 'Things you can do on the cheap this spring to get your boat ready for summer' piece."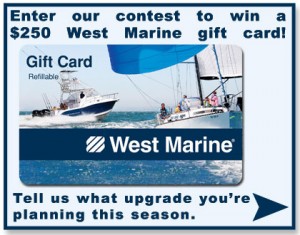 Damn, I hate it when a sailor has a good idea for my market. With that in mind, I grudgingly submit the following five budget-oriented upgrade/product suggestions.
1. Tune Your Wheel
For about $500, you can have your propeller tuned—or "lab-finished" in Mercury Racing parlance. Depending on your performance objectives, prop tuning can mean adding cup, adjusting rake and thinning blades. The bottom line is that propeller tuning is the most cost-effective performance upgrade there is in the high-performance-boat world. The service is offered by several outfits including BBlades Propellers and Throttle-Up Propellers.
2. Protect your Wheel
Considering that you can spend more than $20,000 on a propeller, a protective case seems like a worthwhile investment. Hering and other propeller manufacturers offer tough plastic cases for their wheels. Hering's durable case, which can accommodate a variety of "Bravo-style" propellers, will set you back $175. Considering that it can cost thousands to repair a damaged prop—damage during transport is far from rare—and thousands more to replace it, that's a steal.
3. Light Your Cupholders
Any worthwhile performance-boat has cupholders everywhere you look in its cockpit. Yet most simply do the job, crucial as it is, of keeping beverages in place. Livorsi Marine's LED Beverage Holders combine vital function with showy after-dark form. Each unit comes with a non-heat-producing LED light. To top it off, the LED elements of each cupholder are offered in the same colors as those for Livorsi's LED instruments, meaning the light from the cupholders can be color-matched to the light from the gauges. Best of all, each unit, which comes with a 12-inch wire harness, costs $26.
4. Wrap Your Ride
At the high end of the go-fast powerboat market, paint jobs of more than $60,000 are common. That makes the services from companies such as SignZoo, which creates and applies vinyl wraps to entire go-fast boat hulls and decks, a steal for go-fast boat owners on a budget. The "average cost"— prices vary with the intricacy of the design and application of the graphics—of a SignZoo graphics wrap for a 38-foot-long V-bottom is less than $4,000. Best of all, the applications look amazing.
As sunglasses go, I tend to be a Maui Jim man. As such I have donated—quite literally—thousands of dollars worth of Maui product to the bottom of waterways from California to Florida. Dumb doesn't even begin to describe the act of looking back in a boat at 120 mph. Plus, those sleek, big-buck shades do nothing to keep the wind out of your eyes at that speed. But Guard-Dogs, particularly the company's $29.95 Terminator Goggles, really do. As a member of Powerboat magazine's Performance Trials test team for the past 15 years, I swear by them.
Editor's Note: This article is part of our affordable upgrades series. Tell us your upgrade story for this season and you'll be entered to win a $250 West Marine Gift Card.
Other upgrade stories:
Outboard Expert: $500 Upgrades
Towboat Upgrades for (mostly) Under $500
Electronics Upgrades for Under $1000
Six great upgrades anyone can afford
Playing the engine upgrade game
Tags: affordable upgrades, BBlades Propellers, Guard-Dogs, LED Beverage holders, Livorsi Marine, Mercury Racing, SignZoo, Throttle-Up Propellers