Spring has sprung and it's time to think about useful upgrades to your boat.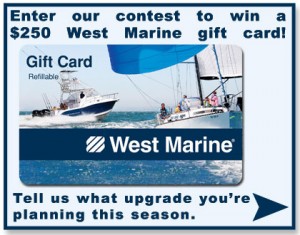 Realizing that cost is a concern these days, I've set a dollar limit of $500 for each of half-dozen improvements that can make your boat safer, less prone to problems or more energy efficient. Power or sail, you can make your boat a better place with these upgrades.
1. Marinco GalvanAlert
In my shopping online for a GalvanAlert, I found the best pricing at Defender Industries: $139.99. But what is it and why do you need one? Well, if your boat spends its life on a mooring you don't need one. If you keep your boat plugged in at a dock, the GalvanAlert could save you thousands of dollars in corrosion-related damage.
Whenever you are plugged in at a dock you are electrically connected to your dock mates, and electrical leakage current can easily migrate from one boat to another via the dock's wiring. Further, electrical reverse polarity, common on many docks, creates a shock hazard on board your boat. The GalvanAlert can warn you of these potential hazards via its four LED warning lights. Even if your boat is equipped with a galvanic isolator, this could still be a problem because it is only capable of blocking about 1.5 volts of galvanic current; anything greater than that will go right through your isolator and be the cause for rapid and profound corrosion. The GalvanAlert will warn you before the damage is done so you can unplug your boat until the problem is solved.  Find out more about this innovative upgrade on the Marinco website.

2. Blue Sea System's VSM Monitor
System monitors are nothing new, but the Blue Sea VSM monitor has some tricks up its sleeve. The VSM unit plus a few sensors to monitor tank levels will monitor bilge pump activity like run time duration, number of cycles, and volume.  And its precision battery monitoring will greatly enhance your on-board experience.
The VSM expands on the commonly used Peukert's equation to give you more precise analysis, based on the varying charge and discharge rates for normal marine batteries (flooded, Gel, AGM). The refined algorithm also enables the VSM to adjust for changes that occur naturally as a battery ages. This added accuracy is very important when you are running on batteries and trying to manage your available power.
The VSM keeps track of 22 different vital measurements and provides 15 programmable alarm settings, based on your individual needs. The unit has ignition protection, so gasoline-fueled boats have no worries about where the unit is mounted. It's also rated as waterproof to IP67 standards, which means it can take a direct hit with a hose or a wave. Sensors for the various functions are available as needed and range from about $15 to about $100.  The unit comes with a three year warranty. A quick shop online found the best price at Defender: $349.99. More info is available at Blue Sea System's website.

3. Anchoring System
Be honest – when was the last time you fully inspected your boat's anchoring system? Are the chain and rode in top notch condition? Is the rode actually attached to your boat, or is the bitter end just lying in the bottom of your anchor locker? Most boaters today either try to rent a mooring or slide up to a transient dock when cruising. The anchor rode doesn't see much daylight, unless the chips are down and you really need it. In my years of boating I've seen all manner of anchoring craziness, always under duress, including throwing the entire rig overboard with no attachment to the boat!
It's time to pull that vital link to the ocean floor out of its locker and inspect it, from the anchor all the way to the end attached to the boat. Replace any and all worn parts. While you're at it, add some length indicators to your rode. For well under $500 you can invest a Saturday morning replacing any worn components in your anchor system and actually know how much rode you've let out. This is important in a crowded anchorage if you want to sleep well.
4. Rusty Stainless Steel
Rust streaks that emerge from stainless steel fasteners and fittings are a clue that some real maintenance is due. I'm talking about doing more here than hosing the stain down with your favorite rust stain remover…
If you see rust, it means the fitting in question is suffering from what is known as crevice corrosion. The part will need to be removed and inspected. Prices will vary depending upon which fittings or hardware needs to be replaced. To make sure this doesn't happen again anytime soon, make sure the bolt or fastener is completely sealed with 3M 5200 or a similar sealer.  Now it's OK to use the rust stain remover…
5. LED Lighting
LED lighting has come of age. Things like voltage sensitivity and chromaticity were concerns when this technology was first introduced, but manufacturers have mostly figured out ways to overcome these issues. Since you already have your boat you can't take complete advantage of LED lighting's very low electrical current draw by using small wires.  (LED's typically draw milliamps instead of amps.) But you can take advantage of the huge reduction in power usage by installing LED light bulbs.
Prices will vary anywhere from about $7 to as much as $40 depending upon how sophisticated the light array is. These bulbs are available from a variety of vendors so do a bit of shopping to get the best pricing.
6.Jabsco Oil Changer
Changing the oil on your boat's engine can be a really messy operation. The Jabsco oil changer comes to the rescue, in part by keeping the center of gravity low.  In the picture it's actually standing on its side. In use, it lays flat giving it a nice, stable footing. It comes with a dip-stick catheter so you can suck the oil out of your engine into the unit's 31/2 gallon reservoir. The pump runs just by clipping the two leads directly to you engine battery. The best price I found for this unit was at www.westmarine.com, $110 as part of their spring sale. Make your life easier, get one.
Editor's Note: This article is part of our affordable upgrades series. Tell us your upgrade story for this season and you'll be entered to win a $250 West Marine Gift Card.
Other upgrade stories:
Outboard Expert: $500 Upgrades
Towboat Upgrades for (mostly) Under $500
Electronics Upgrades for Under $1000
Low cost upgrades for go fast boats
Playing the engine upgrade game
Tags: .Jabsco Oil Changer, affordable upgrades, anchoring system, Blue Sea System's VSM Monitor, Marinco GalvanAlert, rode markers, rusty stainless steel