Regardless of whether any boater is willing to admit it, individuality is part of the allure of boating. When you go under a bridge or cruise by close to shore, you know everyone watching wishes they were you. Boating sets you apart. Boating comprises part of who you are.
Then you realize there are nearly 13 million registered boats in the United States, and if you want to be noticed, you need to drive something with a little pizzazz. Tigé's RZ4 is sure to get you noticed, if not for its edgy styling, then for its bold graphics packages.
"The RZ4 was designed to do everything," said Tigé's lead designer Daniel Gutierrez. "The wakes have been dialed in for the most elite wakeboarder or surfer, and the overall size and features of the RZ4 were created to accommodate an entire family and friends. The styling is progressive, with sharp edges and smooth flowing contours. There is no doubt, in an RZ4, you are in a new era of boat design."
From the pickle-fork bow design to the crisp lines and surface breaks on the hull and deck, the RZ4 looks like no other boat out there. And that's a good thing. But the novelty of good looks can fade quickly if the boat's ergonomics are off, and the RZ4 is as usable as it is striking.
For example, the pickle-fork bow does something more than draw in the eye. It creates a roomier bow section when compared with a standard V-shape forward area. The forward-facing lounges are largely the same width from front to back and essentially parallel with the centerline of the boat, which translates to enhanced comfort for people sitting in, let's face it, the harshest riding spot in any boat. The unique bow design also hides the stainless grab rails from a profile view, which contributes to a "cleaner" look.
At the transom, Tigé thought to include a number of really nice touches, which are part of why the boat is as usable as it is. For example, the swim platform is maintenance-free gelcoated fiberglass with rubber matting for extra grip. Rubber matting also is placed in the center of the deck so your butt doesn't slide off wet gelcoat when you're lashing on a wakeboard. To either side, Tigé built in two cupholders and two self-draining "trunks," which can be used to stash wet gear or even as a cooler.
The sunpad features an upholstered side-opening locker to port and another locker beneath the gelcoated nonskid walk-through on the starboard side. The walk-through makes it easy to get to and from the swim platform, and it also makes boarding easier from the starboard side. Gunwales to either side are accented with stainless mesh grilles that let hot air escape the engine compartment. Handsome and functional.
Inside the cockpit, the rear-facing observer seat flows aft to a rear bench, across and forward again, terminating in another rear-facing lounge seat just behind the driver. Inside the starboard backrest, Tigé cleverly included a trash bin and additional stowage. The result of its design is a spacious interior that is rated to hold up to 17 people—although it's tough to say how comfortable it would be with that many people on board.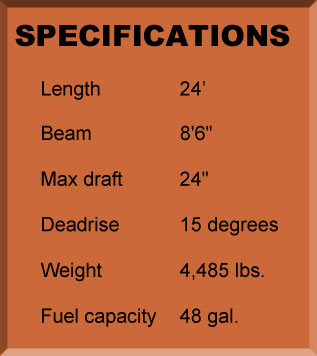 The standard engine is Pleasurecraft Marine's 343-hp 5.7-liter V-8. There's also an option for a she's-real-fine 409-horsepower 6.0-liter V-8. There are stereo options to please even the most discriminating audiophiles and up to 900 pounds of ballast available.
Even the base model—which retails for $71,500 without a trailer—has some cool stuff, such as an air and water temperature gauge, electronic throttle control and 3.5-inch instrumentation. Color choices range from orange, red and blue to lime green. Kawasaki motorcycle fans will love that last one. The whole package screams individuality—and that's at least part of what boating is about, regardless of whether you are willing to admit it.
Editor's Note: Brett Becker is a freelance writer based in Ventura, CA. He covers the marine, automotive and racing industries for various print and Web titles. For more on the RZ4, call 325-676-7777 or visit www.tige.com.
Tags: pickle-fork bow, Pleasurecraft Marine, Tige, Tige RZ4, Towboat