Yacht Design According to Perry Released
Noted yacht designer Bob Perry pens compelling book.
January 2nd 2008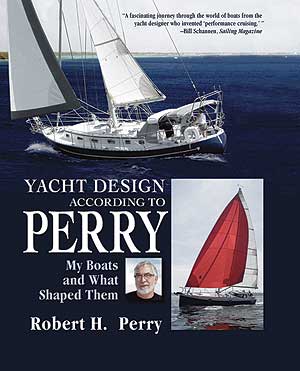 The designs of author Bob Perry are recognized as the epitome of offshore cruising yachts
Yacht Design According to Perry, a new book by Bob Perry, is a personal look at design Bob Perry's benchmark designs, his 34-year career, the highs and lows of the boatbuilding industry. According to a press release from publisher International Marine, a a division of McGraw-Hill, the book focuses extensively on how Perry balances practical considerations with yacht design alchemy to create the many classic boats in his portfolio.
Interspersed with these design stories are essays on the thorny cruxes of yacht design: hull forms and how to understand them; the cruising keel, the rudder, the rig, bow and stern shapes; and the aesthetics of yacht design, in which Perry illustrates key points with boats from his portfolio.
Bob Perry's body of work has established him as the world's foremost designer of performance-oriented cruising yachts—a trend he initiated and labeled. His Valiant 40 has been in production longer than any other cruising sailboat in the United States and was named to the American Boatbuilders Hall of Fame in 1995. Perry himself was one of the original 15 inductees into Cruising World Magazine's Hall of Fame in 1989.
Perry designs are recognized as the epitome of offshore cruising yachts. According to a Blue Water Sailing survey, there are more Tayana 37s cruising offshore than any other design worldwide. Perry has taught yacht design at Evergreen State College, and his popular yacht design reviews have appeared in Sailing Magazine for more than 20 years.
Cost for the book is $39.95