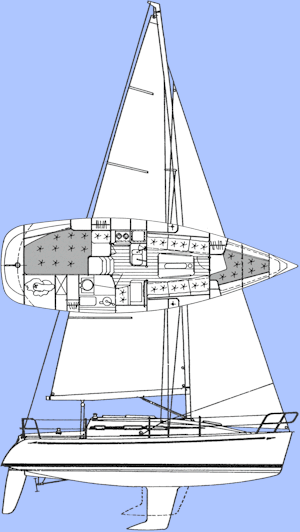 If you're of the persuasion that simple handling, a comfortable motion and a useful turn of speed are what every cruising sailor needs, this handsome 30- footer will strike a chord. She comes from the board of Rob Humphreys, which goes a long way to explaining her rakish looks and sizzling performance. What's more, compared to some other new boats of a similar size, she's not expensive.
The Elan looks well put together and boasts a quality of finish equal to most mainstream builders, both above and below decks. Humphreys has given her a tall, well-raked fractional rig, yet nothing has been taken to extremes. On deck, she's also geared towards efficiency; the well-specified hardware from Lewmar and Spinlock includes jamming headsail foot blocks and cockpit-controlled genoa cars. However, the mainsheet purchase lacked power, and the traveller cleats were awkwardly mounted for controlling from the windward side. Also, the headsail tracks were too far aft.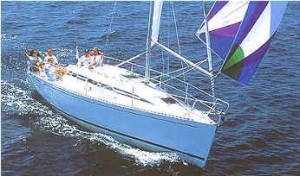 However, she slips along so beautifully that it's hard to feel too critical. We shot off on a beam reach at 6 knots in only 12 knots of true wind, and in spite of her light weight and performance figures she sliced her way to windward impressively smoothly. This is largely thanks to her fine entry, U-shape bow sections and narrow waterline beam. Her most remarkable feature however was her lack of pitching. Directional stability was good too – she didn't wander off course as soon as you blinked, and she proved easy to keep in the groove to windward. We maintained 5.5 knots hard on the wind in 15 knots of breeze, tacking through between 60-70 degrees by the compass. Freeing off to a broad reach, the speed climbed to 6.7 knots. With the wind dying to 8 knots, we still reached at an easy 5 knots. All round, the 295′s forgiving nature and smooth ride made her far more relaxing to sail than many pure cruisers. She is one of those rare boats which makes a keen helmsman reluctant to relinquish his grip on the tiller – not only is she a delight to sail but the driving position is first class.

Under power, the test boat had the optional Yanmar 2GM (an extra £1,100) which, driving a two-bladed fixed prop, gave an impressive max speed of 7.4 knots at 4,000rpm without a hint of squatting. A comfortable 3,000rpm produced 6.6 knots. Full marks too for manoeuvrability, slightly fewer for sound insulation.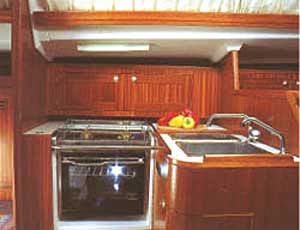 It comes as no surprise to find that the Elan is rather less roomy below decks than many of her competitors. She compensates by being light, airy and generally neatly finished. Although slightly narrower than Humphreys would have chosen, he added an inch or two to the coachroof giving 1.8m (6ft 1in) headroom at the after end of the saloon. Stowage is limited by the shallow bilge and the presence of an 18-gallon stainless water tank under each saloon berth. Galley, chart table and heads facilities are all adequate if unremarkable
Data
| | | |
| --- | --- | --- |
| LOA | 9.2m | (30ft 2in) |
| LWL | 8.1m | (26ft 7in) |
| Beam | 2.98m | (9ft 9in) |
| Draught (deep fin) | 1.8m | (5ft 11in) |
| Disp (deep fin) | 3100kg | (6834 lb) |
| Sail area | 48.77m2 | (525 sq ft) |
| Berths | 4/6 |   |
Tested: Practical Boat Owner, July 1999
VERDICT
To say that the Elan 295 has potential is an understatement. She fills a gap in the market for a sporty yet unextreme 30-footer which – to my mind – comes closer than most to achieving the perfect balance between performance, comfort and simplicity.
FOR
Sailing performance, sailing comfort, value for money
AGAINST
Deck control niggles, smaller interior than many competitors
To visit the online home of 101 Boat Tests please go to www.ybw.com/101/
To view specifications on other Elan Models, see:
Elan Marine
SI-4275 Begunje na
Gorenjskem
Slovenia
Tel.: + 386 4 535 13 70
Fax: + 386 4 535 13 86
elan.marine@elan-line.si
http://www.elan-marine.com