First 10R: Preview of 34-Footer from Beneteau
First 10R: Marketed in North America is known as First 34.7 in Europe.
December 30th 2005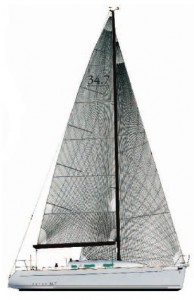 To develop a fast, fun, facile competitor was the challenge that Farr Yacht Design and Beneteau shared in the development of this new racer/one-design. With a sleek, open, no compromise cockpit, powerful sail plan, asymmetrical spinnaker and an iron blade/lead bulb combo keel, that goal has been reached with the new exciting First 10R.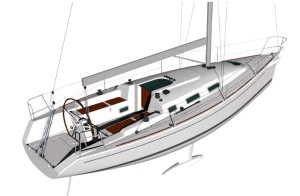 Farr Yacht Design in concert with Beneteau have optimized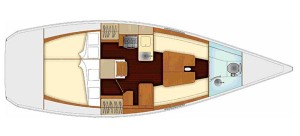 innovative approaches in technology and production methodology, such as a unique one-shot, hull molding process mating injection and infusion which Beneteau has coined as "infujection". In this new boat the hull and structure have been infujected, whilst the deck has been manufactured by injection.
Everything is oriented toward producing the finest sailing boat: whether upwind or downwind, utilizing new hull form and appendage concepts, a high aspect, carbon fiber mast and specific details of weight distribution in exterior and interior arrangements.
In keeping with the character of the First Series, this new generation, though very concentrated on speed, has ample accommodations with a full galley, separate head, navigation station all in a pear wood finish.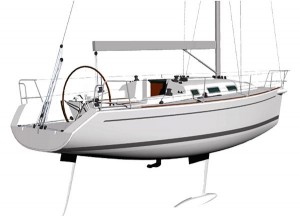 The initial world introduction of the First 10R was at the Paris boat show December 2nd. The European market will recognize this model as the First 34.7, however, in the American market it will be known as the First 10R based upon its' measured hull length of 10 meters (32.8′), as well as the spirit for which she was conceived – racing.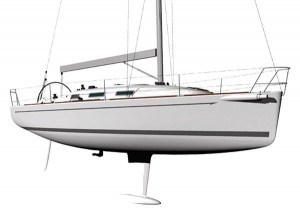 Early in 2006 several, pre-production First 10R's will be built to campaign on European racing venues. For the American market, two hulls off the regular French production line will arrive to the US in late spring 2006. These two boats will be involved in extensive promotional racing and events on the East Coast of the U.S. during the summer as a prelude to production commencing at the Beneteau USA plant in Marion, SC in August, 2006.
Provisional Specifications
Designer
Farr Yacht Design
Length overall
10.30 m
33.79 ft
Waterline length
8.73 m
28.64 ft
Hull length
9.99 m
32.77 ft
Maximum beam
3.37 m
11.05 ft
Light displacement
4,400 kg
8,818 lb
Keel .Cast iron fin
lead bulb
 
Draft – deep kee
2.00 m
6.56 ft
Draft – shallow keel
1.65 m
5.41 ft
Sail area – mainsail
35.30 m2
379.96 sq ft
Sail area – genoa max
35.00 m2
376.74 sq ft
Maximum engine power
20 hp
 
Fuel capacity
75.00 L
19.81 gal
Water capacity
100 L
26.41
For more information:
Beneteau USA
1313 West Hwy 76
Marion, SC 29571
Phone: 843 629 5300
Fax: 843 629 5329
www.beneteauusa.com