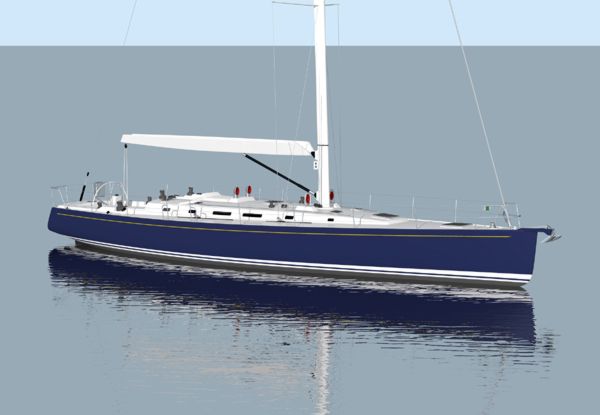 Into a luxury yacht market populated by vessels distinguished more by interior appointments and professional crew rather than sailing qualities, J Boats introduces a fast new J/65 racing/cruising sloop that will be more fun to sail and able to be sailed by its owners. The first J/65 is to be commissioned for sea trials in Rhode Island prior to a California delivery in time for the 2005 Transpac.
With nearly 11,000 owners and an outstanding reputation worldwide for seaworthiness and handling ease earned by the larger J's (42, 44, 46, 48′ J/145 & 53′ J/160), it's not surprising that this new "J Flagship" passagemaker would evolve as the ultimate private sailing yacht for dedicated J followers.
The design brief calls for exceptional performance under non-overlapping headsails, double-handed ease of operation, minimum on-deck maintenance, luxurious accommodations, stunning aesthetics, and thanks to series production (vs. one-off) a great value.
Sloop-rigged, J/65 is long and lean with low wetted surface, allowing the boat to be easily driven with a moderate sailplan in light airs. To make target cruising speeds of 9-10 knots, J/65 won't be as dependent upon auxiliary diesel power as most vessels in her category. A graceful sloping sheerline, and flared topsides allow for a sleek and purposeful silhouette and a dry, comfortable ride. The large, protected aft cockpit offers plenty of space to get comfortable as well as great protection offshore.
J/65′s versatile sailplan accommodates both a cruising set-up with main and roller-furling small jib, and a powered-up performance program with overlapping headsails and asymmetric spinnakers tacked to the stem or flown from a carbon spinnaker pole. All it takes to hoist, furl and trim the sails is to push a few buttons.
Hull #1 is optimized for "high performance global cruising," with an extensive systems package (AC/heat/genset/inverter, etc), bow thruster, hydraulic winches, hydraulic furler/windlass package, and a 9′draft all-purpose keel. Hull #2 is optimized for distance racing with pared down systems, lightweight end-cabin accommodations and a 12′ draft racing keel.
Staying true to the philosophy that comfort at sea translates into comfort at the dock, J/65′s interior delivers both on style and function. There are three private cabins, a large main saloon, a large navigation station, spacious galley and an abundance of storage. This ocean-proven layout allows secure fore and aft crew movement below, even in rough conditions. Some owner customization of the interior is contemplated within the confines of the structural/systems layout.
TPI Composites has been named the builder for the J/65, and a special assembly bay is being prepared at their Warren, RI facility to accommodate the project. The 27 year J/Boat/TPI relationship and TPI's industry-leading experience engineering and building large composite structures are seen as key ingredients to the successful launch of this semi-custom series.
J/65 hull and deck construction will utilize the award-winning and patented SCRIMP molding process with a carbon/E glass laminate and tapered core laminate built to exceed ABS strength requirements and new ISO draft scantling standards for CE Certification. Weight optimization is a high priority and is carried through to the carbon spar package from Hall Spars, the carbon rudder engineering/assembly, and the extensive systems layout below.
Project updates and photos will be posted online at www.jboats.com