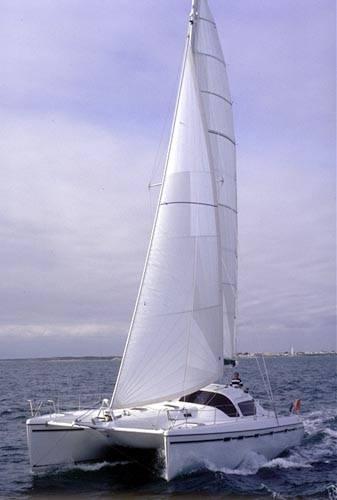 This big catamaran was designed by Marc Lombard with interior by Rol et Vialle. In plan view this cat shows that almost all of its gross planform is occupied by deck. This includes the extended nose forward. The divot between the hulls aft of the cockpit is only big enough to nestle the inflatable dinghy. This usually makes for a heavy cat, but according to brochure numbers, this cat's D/L ratio is only 115, and that's reasonably light. I'd like to see the flotation trim for myself.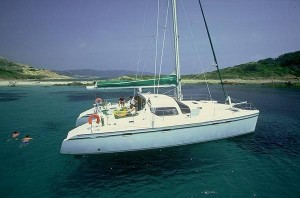 I am pleased to see that the designer has chosen to go with real daggerboards for this design. Most cruising cats have silly molded, low-aspect-ratio keels that may help on the beach, but don't help on the wind. The Privilege's daggerboards will help make this boat fast upwind. There is a small keel fairing to protect the rudder and prop when doing a beach landing.
This deck is a masterpiece of glass-reinforced plastic sculpture and design, and the cockpit is a wonderful space separated from the socializing area. The profile is a little on the abrupt side on the drawing, but you have to see a cat in the water before passing judgment on profile. This apparent height will visibly diminish once it's superimposed on 24 feet of beam.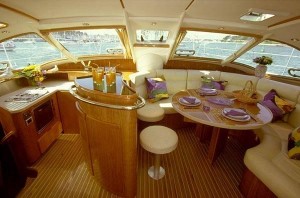 Look at the interior plan and note the huge footprint (I almost said floor plan) of this layout. The forward wedgelike nose allows the accommodations to creep forward. There are four staterooms and each has an adjoining head. The saloon is beautifully designed with a big wrap-around dinette.
The rig is big with an SA/D ratio of 27.54. The mainsail is huge; I hope that the system they use to lead the main halyard to the electric windlass works well. You would not want to haul up this main manually. Jibs and genoa lead to tracks on the top of the house. This keeps the sheeting angles close and removes clutter from the side decks.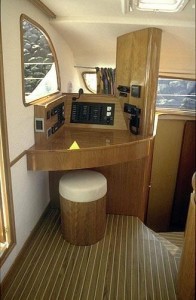 There is a huge amount of bulk here. The key to cat performance is light weight to offset the gains in wetted surface. The narrow hulls are not conducive to carrying large amounts of weight. I would like to see the gap between the hulls as big and distinct as possible. When you fill out the overall footprint of a cat, you run the risk of producing barge-like proportions and eliminating the speed advantages of the catamaran form. Careful design and monitoring of construction weights by Privilege will mean avoiding those pitfalls. If I were a cruising catamaran fan, I'd like this cat.
Masterfully designed, comfortable cruising catamaran.
Boat Specifications
| | |
| --- | --- |
| LOA | 47′ |
| LWL | 44'9″ |
| Beam | 24′ |
| Draft | 4'5″ (max) |
| Displacement | 23,150 lbs. (light) |
| Sail Area | 1,398 sq. ft. (main + genoa) |
| SA/D ratio | 27.54 |
| D/L ratio | 115.29; |
| Auxiliary | (2) Yanmar 40-horsepower diesels; |
| Fuel | 149 gals.; |
| Water | 159 gals. |
US Distributor:
The Catamaran Company
4005 North Federal Highway
Suite 200
Fort Lauderdale, Florida 33308
Phone: (954) 566-9806
info@catamarans.com
http://www.catamarans.com
Tags: catamaran, Privilege, Privilege 465, sailboat, The Catamaran Company