Tall Ships to Visit Charleston June 17-20, 2004
The Charm of Charleston and Free Fun for the Whole Family on Father's Day Weekend
April 16th 2004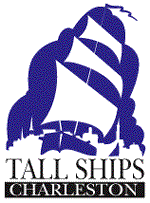 The largest gathering of tall ships in United States year to date will be in Charleston, SC for Father's Day weekend. Naval tall ships from around the world will include the USCG Eagle, the Pride of Baltimore, sail training vessels from
Romania (Mircea), Mexico (Cuauhtemoc), Columbia (Gloria), and many more.
The Charleston Maritime Festival on land will offer incredible family
fun on Father's Day weekend with features such as free sailboat rides,
maritime art, family boat building, tug boat challenge, wooden boat display,
music, food and parties.
When:
Thursday – Sunday, June 17-20, 2004
* Charleston Maritime Festival kick-off Thursday afternoon, June 17
1:00-6:00PM with festivities continuing throughout the weekend
10:00AM-6:00PM Friday – Sunday.
* Tall Ships Charleston piers open to the public between 10:00 AM
and 5:00 PM Friday – Sunday, June 18-20
Where:
* Festival to be centered at the Charleston Maritime Center with
tall ships on display and additional activities in Ansonborough Field -
Concord Street 1 block south of the South Carolina Aquarium
* Larger Class A tall ships will be berthed at the SC State Ports
Authority Passenger Terminal at the foot of Market Street
* Parking is available in the SC Aquarium Garage on Concord Street,
the Gaillard Auditorium Garage on Calhoun Street, and in the Concord Street
Garage near the Passenger Terminal
Tall Ships Charleston is presented by the Charleston Maritime Commission in
association with ASTA. They will handle all logistics of tall ships visiting
Charleston during this weekend and public access to the ships. Contact
Jeanne Aichele for more information about Tall Ships Charleston at
843-805-3052 or jaichele@charlestoncvb.com
The Charleston Maritime Festival is managed by the South Carolina Maritime
Heritage Foundation, a nonprofit organization currently constructing the
Spirit of South Carolina, the state's only tall ship. SCMHF intends to use
the tall ship for educational expeditions. The foundation also manages the
Charleston to Bermuda race and other maritime events.
For more details:
Visit www.charlestonmaritimefestival.com
and
www.tallshipscharleston.com