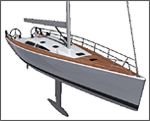 Its been a good month for Marten Yachts the Auckland based builder of some of the worlds most famous yachts such as Kingfisher, Mari Cha III and the giant Kiwi Americas cup yacht KZ 1. Introducing their new range of series built performance cruisers at the London and Dusseldorf boat shows during January has confirmed a strong market for the new breed of owners who want to see real performance from their yacht, whether cruising or racing.
With three boats now confirmed and currently in build, and a long list of clients who want to see the yacht when it is sailing, the Marten 49 looks set to be a success. Designers Reichel Pugh together with Marten Yachts have long felt there was a need for a real change in what has been called the performance cruiser market.
"When heavy displacement yachts with shallow draught are marketed as performance cruising yachts its time to have a look at what we really mean by performance", said Steve Marten, founder of Marten Yachts. "Equally it is unreasonable to expect an owner to go cruising short handed in a boat with limited interior, a huge sail plan and enormous draught".
Several key features enable the Marten 49 to be both comfortable passage maker, and an exciting short-handed performance sailor. The yacht is constructed completely from Carbon SPRINT from a carbon female mould. A lightweight interior utilizing aluminium honeycomb for doors also allows the full luxury treatment with joinery and specifications to the highest possible standards. This results in a light weight boat of around 9500kgs, which is not bad for a fully fitted out 50ft yacht including full teak decks with carbon flush hatches, a heating system, three double cabins with two heads/showers, a full galley and a salon with seating for 8 people. Optional extras include a garage capable of stowing a 2m tender.
Marten Yachts only manufacture in carbon to the highest standards and having built some of the worlds most successful and reliable race boats, only know one way to build.
A lightweight, reliable yacht made from modern materials is one thing, but what really give the boat its performance and stability edge is the lift keel mechanism that the yacht has been designed with.
With a maximum draught of 3.7m (only 100mm short of a Volvo 60!) performance and stability become turbo charged. With a push of a button beside the helm station the draught is simply reduced to 2.1m allowing entrance into small harbours and anchorages into which you would take a much smaller yacht. As an integral component in the structural design of the boat the lifting keel mechanism adds little or no extra weight. Reliability also comes as standard with the yard having installed over 120 lift keel systems over the past 30 years in boats from 30 ft to 90 ft.
Ancasta International Boat Sales have been dealers for Marten Yachts for over a year and are proud to be partners in such an exciting project. Should you wish to have further information on these boats please do not hesitate to contact Jamie Boag on: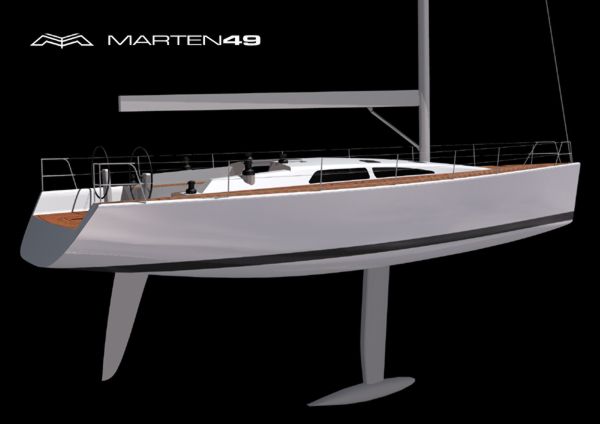 Ancasta International Boat Sales
e-mail martenyachts@ancasta.com
Phone +44 (0) 78 559 56679
Tags: carbonfiber, Marten 49, Marten Yachts, sailboat