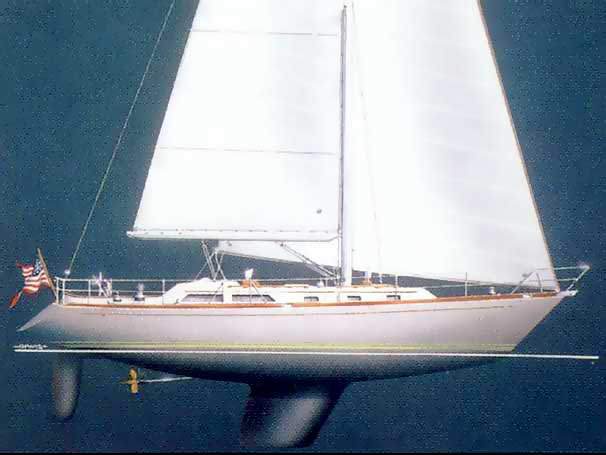 The name Alden is a famous one in American yachting history, with John Alden having designed more than 1,000 yachts, including the famous string of race winners named Malabar. Though Alden passed away more than three decades ago, his conservative approach to naval architecture has been passed to the present company.
So it's no surprise that the Alden 43/45 has been in the planning stages for several years, as an expansion of their successful line of semi-custom Alden 50/54s and Alden 45/50s.
Like the Alden "racer-cruiser" yachts of years past, the designers of the 43/45 started with a blank sheet of paper, but the IMS rulebook was also on the drafting table. Not only was the 43/45 specifically designed with the IMS rule in mind, but she also meets the Ocean Racing Council (O.R.C.) stability requirements for Category O racing and is constructed to meet the American Bureau of Shipping certification requirements for +A1 Offshore Racing Yachts.
The result is a handsome yacht with traditional lines that will beat the pants off any similarly sized full race yacht that lets her guard down for even an instant. The Alden 43/45 redefines the phrase "wolf in sheep's clothing".
While the only external difference between the two boats is the traditional transom on the 45 and the retrousse stern on the 43, Alden executives suspect that most racers will pick the smaller boat although either can be equipped for either race course or offshore cruising.
Hull lines for the design were computer generated and then evaluated with a Velocity Prediction Program, resulting in hull sections that are distinctly U-shaped from just aft of the bow entry area. The run of the canoe body is broken only by a skeglet and a high aspect ratio spade rudder for maximum control in all conditions.
The beam has also been carried well aft, which not only results in a hull with a low wetted surface to displacement ratio, but also plenty of living space inside the hull. At the waterline, the beam is 3.35 metres (11′) and the maximum beam is a modest 3.78 metres (12'5″).
As part of the design criteria, the Alden 43/45 has a 120° limit of positive stability, which means that she can be rolled to that point from vertical (or 30° beyond flat in the water) and still come back up.
In keeping with the performance aspect of the design, the keel and rudder shapes were also carefully chosen from air foil sections notable for good lift to drag ratios, and two separate keels have been designed. The deep keel is a 4.53 tonne (10,000 lb) fin with a draft of 2.26 metres (7'5″), while the shallow version is an elliptical torpedo shape of 4.9 tonnes (11,000 lb.) and a draft of 1.75 metres (5'9″).
Even more unusual is the keel attachment method, called the Alden Interkeel, which is designed to make keel changes practical. Using a proprietary keel to hull joint, keels can be replaced in three hours with all work done from the exterior. Thus an owner might order two keels with his new yacht: a deep fin for racing and/or cruising in deep water, and a shallow keel for island-hopping around the Bahamas.
While a masthead-rigged double spreader spar carries the standard sailplan, a buyer interested in maximum performance will likely opt for a triple spreader spar with removable forestay and check stays. This increases the sail area from 86.43m2 (930 sq. ft) to 95.72m2 (1030 sq. ft.), as well as providing more shape controls for racing.
The deck layout is equally adaptable, and the T-shaped cockpit lends itself to both racing and cruising. The halyards lead off the mast to the cockpit, and the cabin house has consciously been narrowed to allow both inboard genoa tracks and workable side decks.
Three interior arrangements have been drawn by Alden but, within certain structural constraints, an owner can have any layout he wants. All have a private cabin aft to port with double berth, and another cabin forward with either vee or offset double berth.
Racing versions are likely to have an abbreviated galley to starboard, while cruisers will likely pick the more spacious arrangements that extend to the engine box in mid-cabin, fitting a day head next to the companionway. The midships salon can be arranged with settees, pilot berths, folding tables, or any combination, and the head compartment forward of the main bulkhead can also be spartan or, with a stall shower, luxurious. Both racing and cruising versions have spacious navigation areas to port.
Construction is modern without being experimental. The hull and deck are vacuum bagged laminations of biaxial E- and S-Glass fibers, bonded with vinylester resins around a low density balsa core. The result is a light and very stiff hull with a low center of gravity. The interior is finished with okoume plywood and balsa cored paneling, with both solid wood and veneers used as necessary. A ten year warranty against blistering is standard with each Alden.
Standard power is a Westerbeke 63-B naturally aspirated diesel with fresh water cooling, turning a two-bladed bronze prop on the cruising version.
Hull #3, Mischief, has the traditional transom and the double spreader rig, but even a brief sail in light airs is enough to prove that there's plenty of power in this design even without resorting to the go-fast racing gear. With a pair of Lewmar #62 self-tailing winches as the primarys, it's a cinch to trim the big headsail.
Though Mischief is set up for cruising with a radar dome on the backstay, big dodger, and roller furling headsail, she can reel in much larger boats with ease, surprising the other crews more than her own, who know she's really a thinly disguised racing machine.
Boat Specifications
| | |
| --- | --- |
| LOA | 43:13.16m (43'2″) |
| | 45:13.67m (44'10″) |
| LWL | 10.52m (34'6″) |
| Beam | 3.81m (12'6″) |
| Draught Fin: | 2.26m (7'5″) |
| Shoal: | 1.75m (5'9″) |
| Displacement Fin: | 10.43 tonnes (23,000 lb) |
| Shoal: | 10.88 tonnes (24,000 lb) |
| Sail Area | 84.99m2 (915 sq. ft) |
| Engine | 1x60hp Westerbeke 63B diesel |
| Fuel | 189 litres (50 gal.) |
Naval Architect
J. G. Alden, Inc.
Builder
Alden Yachts
1909 Alden Landing
Portsmouth, RI 02871
USA
Phone: (401) 683-4200
fax: (401) 683-3668
Tags: Alden, Alden 43, Alden 45, Alden Yachts, IMS, sailboat